'There's nothing to choose in terms of quality between the two Boekenhoutskloof Cabernet Sauvignons in 2017, one of the best Cape vintages of the last half century.' – Tim Atkin MW
This is a great opportunity to acquire two of the finest Cabernets to be released by the powerhouse South African producer Boekenhoutskloof. These epic wines are perfect to put away and enjoy over decades to come. Today we're offering 1 year of free cellaring on these two Boekenhoutskloof Cabernets.
'The Helderberg is to Stellenbosch, of course, what the Médoc is to Bordeaux: the home of Cabernet Sauvignon, and our duty was clear,' says Marc Kent, explaining his vision behind making a local benchmark. While the Franschhoek Cabernet is quintessential Boekenhoutskloof, the Stellenbosch iteration is clearly taking aim at the Médoc. Both these releases also form part of our 2017-focused January PIP investment offering.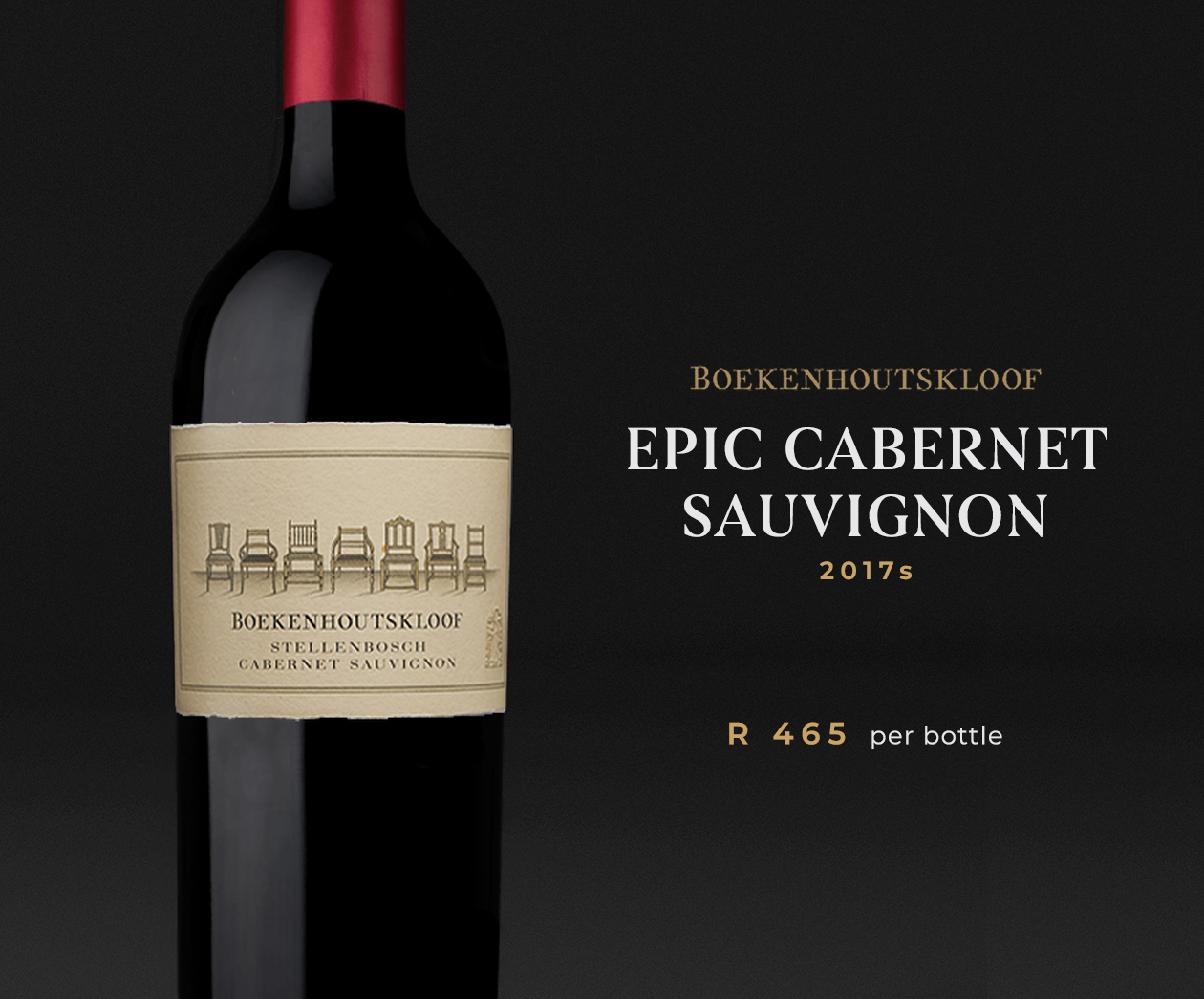 The maiden 2014 release was well-received, but it is the impressive 2017 Boekenhoutskloof Stellenbosch Cabernet Sauvignon, crafted by Gottfried Mocke, that cements this vision. It is a wine of immense complexity and power with layered red and dark fruit, deft use of oak and dry, savoury tannins. There is just so much going on here! This is a classic Cabernet Sauvignon from the standout 2017 vintage and demands time for its purposeful tannins to harmonise.
It is joined by an equally impressive sibling. The distinct quality of the 2017 Boekenhoutskloof Franschhoek Cabernet Sauvignon, sourced from four vineyards on the farm with a dash of their famous Cabernet Franc, has become one of the most awarded Cabernets in the Platter's Guide over the years. Perfumed and subtle at first, the fresh lift is followed by a rich, rounded and deeply satisfying palate. Raised and matured in the finest French oak, we again see the abundance and class of the 2017 vintage. This polished and refined signature wine requires patience before broaching.
These 2017s are for the collectors and present the perfect opportunity to start a cellar.
Tasting notes:
Boekenhoutskloof, Stellenbosch Cabernet Sauvignon 2017
Grapes from four Helderberg vineyards. Includes some 6% Cabernet Franc. Matured for 18 months in French oak, 60% new. The nose shows red and black fruit, an attractive herbal note plus hints of vanilla and spice. The palate shows great focus – pure fruit, fresh acidity and firm but fine tannins. Wonderfully long and dry on the finish, this is really elegant. – Christian Eedes, Winemag, 95/100

Boekenhoutskloof's Stellenbosch Cabernet Sauvignon is always a little firmer and sturdier than its Franschhoek bottling, which is why they are both worth buying and collecting. Sourced from three blocks on the Helderberg, this sees 60% new wood and is serious and concentrated, showing damson and blackcurrant fruit and dense tannins. Drink 2023-35. – Tim Atkin MW, 94/100
Boekenhoutskloof, Franschhoek Cabernet Sauvignon 2017
There's nothing to choose in terms of quality between the two Boekenhoutskloof Cabernet Sauvignons in 2017, one of the best Cape vintages of the last half century. Made with fruit from a block planted in 1996 and blended with 9% Cabernet Franc, it's floral, refined and elegant, with green herb and black cherry fruit and velvety tannins. Drink 2021-29. – Tim Atkin MW, 94/100

Complex & intense black berry fruit, cigarbox & cool fresh herb fragrance from splash cab franc (9%) on 30% barrel-fermented 2017. Very firm, with a fine-grain tannin structure buffed in 80% new French barriques (18 months, as next 3). Needs time to show true charm, decant in youth. – Platter's Guide, 4.5* (94/100)