Beaujolais and Gamay are back at the vinous high table. As Jancis Robinson writes, 'things are really looking up in the kingdom of Gamay.' With a renewed focus on quality, sustainability and authenticity from established legends and a new generation of passionate vignerons, Beaujolais is blooming! After a string of outstanding vintages, 2018 is being hailed as legendary. Across the region, the 2018s seem richer than the wines of 2016, offering the power of 2015 with more freshness and elegance than the 2017s.
Situated just south of Burgundy, Beaujolais' Gamay makes a light-bodied red just like its parent grape, Pinot Noir. They're loved for their delicate fruit, floral aromas and earthiness and are excellent food companions. With its savoury, peppery notes, Gamay can be Syrah-like at times and thus appeals to a broad audience. We love Gamay for this versatility!
Cru Beaujolais – the darling of wine geeks, critics and sommeliers alike – hails from one of the region's 10 crus. It is a more serious and sophisticated iteration of the Gamay grape. Whilst made to age, it's also extremely approachable and immediately pleasurable – pure-fruited, concentrated, energetic and seamless.
'There has never been a better time to explore this region's delicious, approachable wines.' – Josh Raynolds, Vinous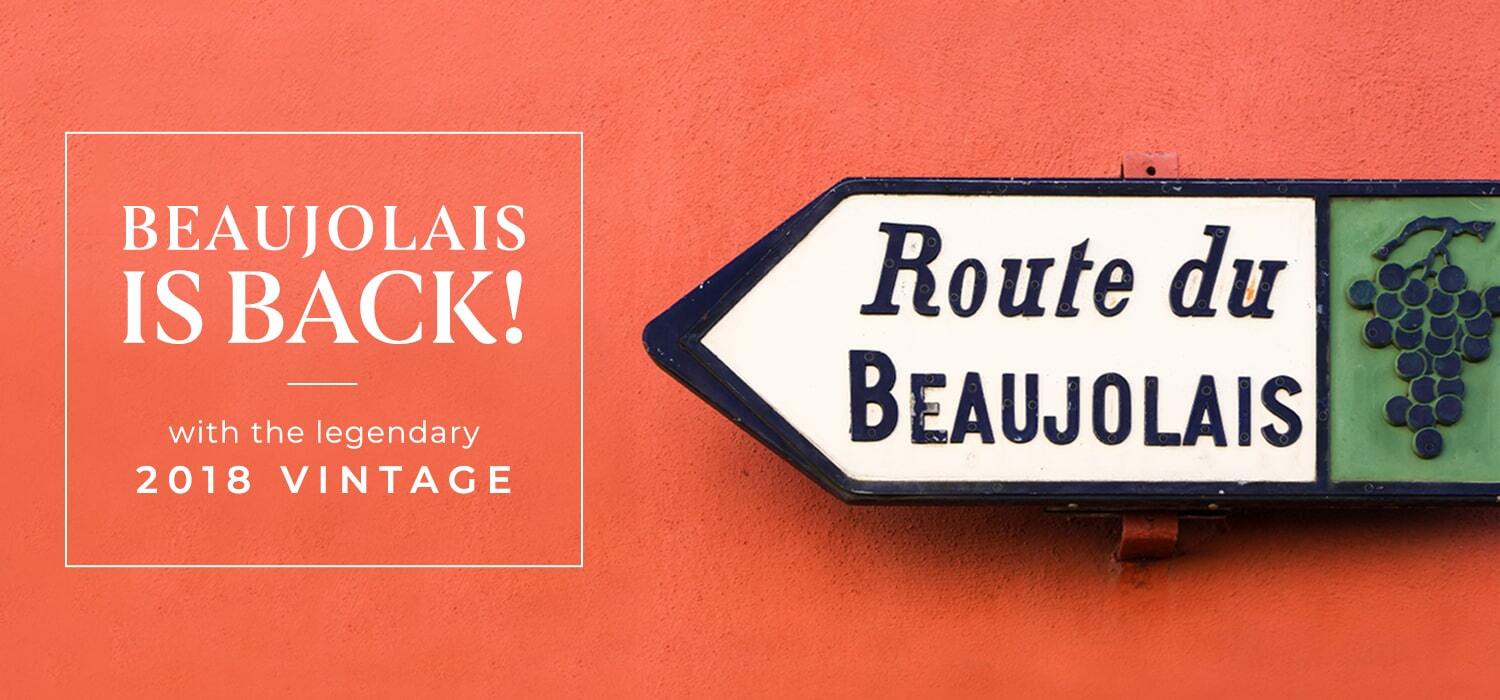 Brouilly, the southern-most cru, is home to Château Thivin – a historic, 6th generation estate known for 'classical, age-worthy cru Beaujolais', as per Wine Advocate. Their 2018 Brouilly Reverdon is fresh-fruited, foresty and vibrant and sits on Wine Spectator's 2020 Top 100 list. Up the slope you'll find their Côte de Brouilly Les Griottes de Brulhié. The 2018 is full-bodied and smoky with more pronounced tannins and ageing potential.
Another Brouilly local is Château de la Chaize. Founded in 1667, all 90 hectares are farmed organically. Their 2018 Brouilly Les Deux Amis epitomises the appellation – it is perfumed with notes of fruit pastels and lifted sour cherries with a silky finish.
To the north lies Chiroubles – the highest altitude cru in Beaujolais. La Grosse Pierre, established in 1960, farms organically and focuses on single-vineyard expressions, low SO2 and uses mostly whole bunch. Their 2018 Chiroubles La Grosse Pierre is a juicy, black-berried, black-peppered wine, showing the generous side of Beaujolais.
The Fleurie cru produces the region's most feminine and floral wines. Case in point is the very pretty and organic Les Marrans 2018 Fleurie which is deliciously red-fruited and floral with a light stoniness on the back palate.
Tasting notes:
Thivin, Brouilly Reverdon 2018
Deep, bright-hued violet. Fresh dark berries, candied flowers, allspice and a hint of blood orange on the expansive nose. Sappy and appealingly sweet, offering pliant cherry and black raspberry flavors that deepen and spread out quickly with air. Delivers a suave blend of power and finesse and finishes very long and smooth, with bright, mineral-driven thrust, silky tannins and lingering floral and spice notes. Drink 2022 – 2028. – Josh Raynolds, Vinous, 92/100

Richer, more voluptuous and larger-scaled than its 2017 counterpart, the 2018 Brouilly Reverdon unfurls with a ripe bouquet of mulberries, blackberries and licorice. On the palate, it's full-bodied, ample and fleshy, with broad shoulders and a generous, expressive profile. Drink 2019 – 2025. – William Kelley, Wine Advocate, 91/100
Thivin, Côte de Brouilly Les Griottes de Brulhié 2018
The 2018 Côte de Brouilly Les Griottes de Brulhié derives from a sunny, steeply sloping, southeasterly exposed site. Bursting with aromas of cherries, cassis, smoked meats, spices and wild berries, it's medium to full-bodied, enveloping and succulent, with an open-knit, giving profile despite some youthfully chewy tannin. It, too, is showing well. – William Kelley, Wine Advocate, 92/100
Chaize, Brouilly Les Deux Amis 2018
The 2018 Brouilly Les Deux Amis epitomises the Brouilly appellation. It offers lots of perfume on the nose with notes of fruit pastels. There are lifted sour cherries on the palate with a silky and soft finish. – Wine Cellar (Jan 2021)
Grosse Pierre, Chiroubles La Grosse Pierre 2018
I underestimated the 2018 Chiroubles La Grosse Pierre when I tasted it not long after it had been bottled, and six months later, it's performing very well. Mingling aromas of black cherries and blackberries with hints of cracked pepper and herbs, the wine is medium to full-bodied, supple and elegantly fleshy, with succulent acids, melting tannins and a seamless profile. – William Kelley, Wine Advocate, 90/100
Marrans, Fleurie Les Marrans 2018
Bright and vivid cherry and raspberry puree notes are interwoven with anise, floral and spice accents in this supple, pretty red. Elements of tea and graphite line the finish. Drink now through 2025. – Gillian Sciaretta, Wine Spectator, 90/100

Like a bouquet of flowers, very high-toned. Bursting with strawberry on the palate. Soft, soft tannins allow the fruit to shine. Moreish. – Tom Parker MW, JancisRobinson.com, 16.5+/20