We might well be SA's biggest Champagne fans. Our obsession led us to explore this exciting category and start importing one of our absolute favourites, Champagne Jacquesson, over a decade ago – and their star keeps rising. Highlighting Jacquesson as one of the 'Best Wines of France 2020', the prestigious La Revue du Vin de France wrote: 'We have here the best that Champagne can produce in terms of wines of terroir with distinctive personalities.'
Jacquesson's Cuvée 743, from their signature 700-series, shows why this house is considered one of the best in Champagne and on a 5-star level along with Krug, Selosse, Roederer, Bollinger and Egly-Ouriet! It is intense, robust and racy. Under the leadership of the Chiquet brothers, Laurent and Jean-Hervé have changed the face of Champagne. The 700-series cuvées* intentionally reflect vintage character, yet offer non-vintage depth with the addition of 30% reserve wine. Buying in only a small portion of grapes, Jacquesson is the bridge between grower Champagne and the traditional houses.
'Jacquesson is naked purity and pure brilliance. The 700-series wines are some of the best in Champagne.' – Vinous
Founded in 1798, Jacquesson is one of the oldest independent Champagne houses and has a history of trailblazing. It not only predates Krug but gave birth to it when Johann-Joseph Krug left Jacquesson in 1843 to start his own house. In addition, Adolphe Jacquesson patented the muselet (the wire cage that keeps the Champagne cork in place) and worked with Dr Jules Guyot to plant and train vines in rows – a radical notion at the time, now the standard in viticulture.
Cuvée 743, a blend of Pinot Noir, Chardonnay and Meunier, is based on the 2015 vintage, which is shaping up to be an outstanding vintage in terms of both quality and consistency.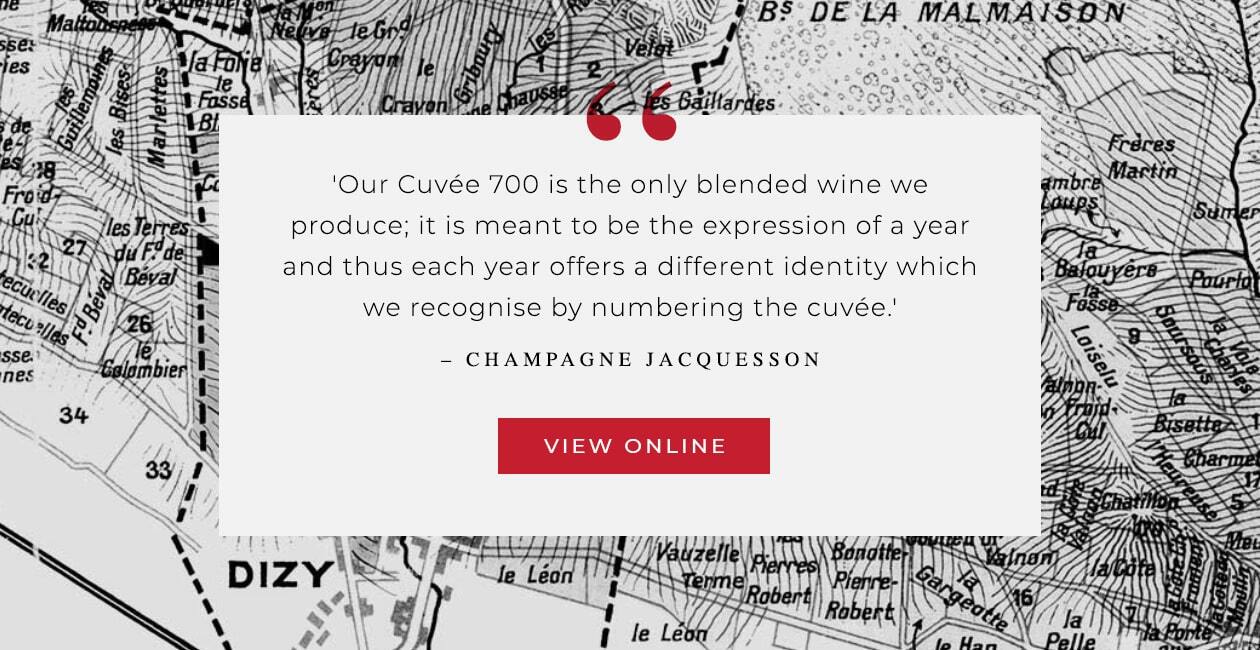 * Cuvée 1 dates back to 1898. The Chiquet brothers' philosophy consists of making Champagne like fine wine by approaching it from a vintage and terroir perspective and eschewing the traditional, yearly non-vintage 'house styles'. They re-started the 700-series in 2000 with Cuvée 728. Therefore, when looking for the vintage on which one of Jacquesson's 700-series is based, simply subtract 728 from the cuvée number. 743 – 728 = 15. Thus, Cuvée 743 is based on the 2015 vintage.
Tasting notes:
Jacquesson, Cuvée 743 Extra-Brut NV
Aged in wood, this is the latest iteration of the producer's non-vintage cuvée based on the 2015 vintage. It is impressive in its white-fruit richness that is perfectly balanced by intense acidity. Bottle aging has added to the Champagne's complexity. This is a fine wine that is ready to drink. – Roger Voss, Wine Enthusiast, 94/100

The NV Extra-Brut Cuvée No. 743 (2015 base) is soft, open-knit and caressing. The natural radiance of 2015 comes through in the wine's ample, creamy feel. Apricot, spice, dried flowers, hazelnut and lightly honeyed notes are all beautifully laced together. The 743 is already a touch forward, in a good way, which makes it a terrific choice for drinking now and over the next handful of years. The blend is 60% Pinot Noir (from Aÿ, Dizy and Hautvillers) and 40% Chardonnay (from Avize and Oiry). Disgorged: August 2019 and bottled with no dosage. Drink 2020 – 2030. – Antonio Galloni, Vinous, 92/100

This offers an elegant and toasty bouquet with pear, dried flowers and white fruit aromas. On the palate, this is a pure and clean Champagne with some delicacy and floral aspects. This cuvée is even more elegant with a bit of air. Grapes are sourced from Aÿ and Dizy (60% of the crop) and Avize and Oiry (the remaining 40%). No dosage. The base wine is from the 2015 vintage. Drinking Window 2020 – 2030. – Yohan Castaing, Decanter, 92/100