Meerlust Estate in Stellenbosch is the pioneer of the Cape Bordeaux blend. Their world-renowned flagship, the Rubicon, is a benchmark for classic, long-ageing South African wines. But every decade or so, a vintage does not meet the self-imposed quality standards deserving of the Rubicon moniker. Thus, there will be no 2019 Rubicon. In its stead, they are releasing a 2019 Meerlust Red, which has only ever been released locally in '85, '90, '02 and '11 – making it a very rare occurrence indeed. While this makes it one for the collectors, it is also ideal for those seeking Rubicon quality that is already a joy to drink.
The 2019 Meerlust Red is a classy release and offers exceptional value for a wine with this much pedigree. It hits the spot in the classic Meerlust way, offering elegance, superb balance and fine-toned, gentle tannins. The blend is made up of 43% Cabernet Sauvignon with 31% Merlot (higher than usual), 21% Cabernet Franc and 5% Petit Verdot. As there will also be no 2019 Merlot bottling, the estate's best Merlot was blended into the 2019 Red, giving it particular charm and finesse.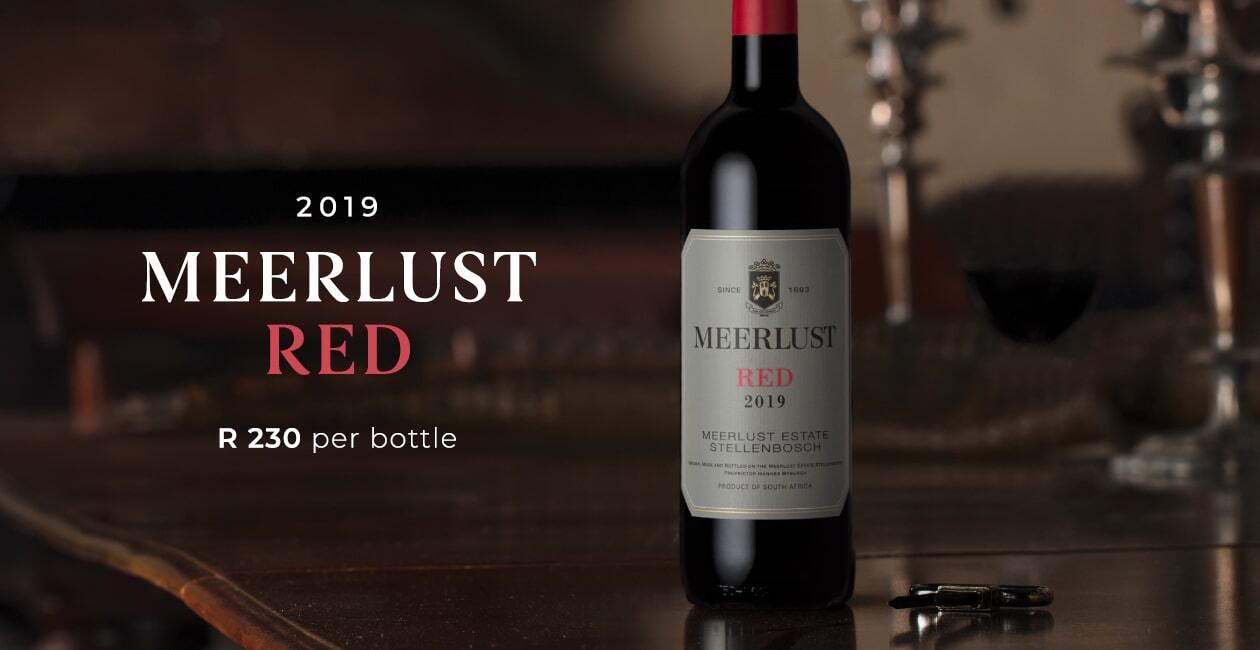 Cellarmaster Wim Truter, who joined Meerlust in 2020, agreed with the outgoing Cellarmaster Chris Williams' assessment that 2019 did not meet the high standards demanded of the Rubicon. Vintage conditions resulted in slightly lower alcohols and lighter wines. Whilst fantastically approachable in its youth, the wine would lack the intensity required for Rubicon. The varietal components spent about 9 months in barrel with 46% aged in new oak. Together with Winemaker Altus Treurnicht, the 2019 Red was blended and then barrel-aged for a further 17 months in French oak.
* Look out for the 2017 Meerlust Rubicon, from an excellent vintage, which is to be released soon.
Tasting notes:
Meerlust, Red 2019
An elegant intro with fresh notes of crushed herbs and red fruit. An inviting, lifted nose – typical Meerlust maritime aromas over graphite and old-world Cabernet Sauvignon depth, leading to a medium-bodied palate with lovely balance and a more-ish, classic finish. Very claret like. Ready to enjoy now but will easily evolve for a decade and more. – James Pietersen (February 2021)