A powerhouse for long-term enjoyment that will continue to evolve and impress.' – Lauren Buzzeo, Wine Enthusiast, 93-95/100
With a staggering set of seven 5-star wines, Kleine Zalze Vineyards was catapulted into the limelight as Platter's 2021 Winery of the Year. As Alastair Rimmer, Kleine Zalze Cellarmaster puts it, 'this is probably one of those things that will happen once in my life… most wineries dream of becoming Winery of the Year!' We are excited to bring you an exclusive release of these highly-rated wines.
Their Kleine Zalze Family Reserve range is core to the estate and, at its apex, is their 95-point 2017 Family Reserve Cabernet Sauvignon. It was impressive when we tasted it from barrel and equally so for Wine Enthusiast Editor, Lauren Buzzeo, who gave it the highest rating out of 24 of SA's best Cabernets tasted that day – read more. Deep fruited, with a core of blackberry fruit, the plush and fleshy palate is nicely balanced by fine-grained tannins that rein in its muscular nature. From a stellar vintage, it's certainly one of their most emphatic releases to date.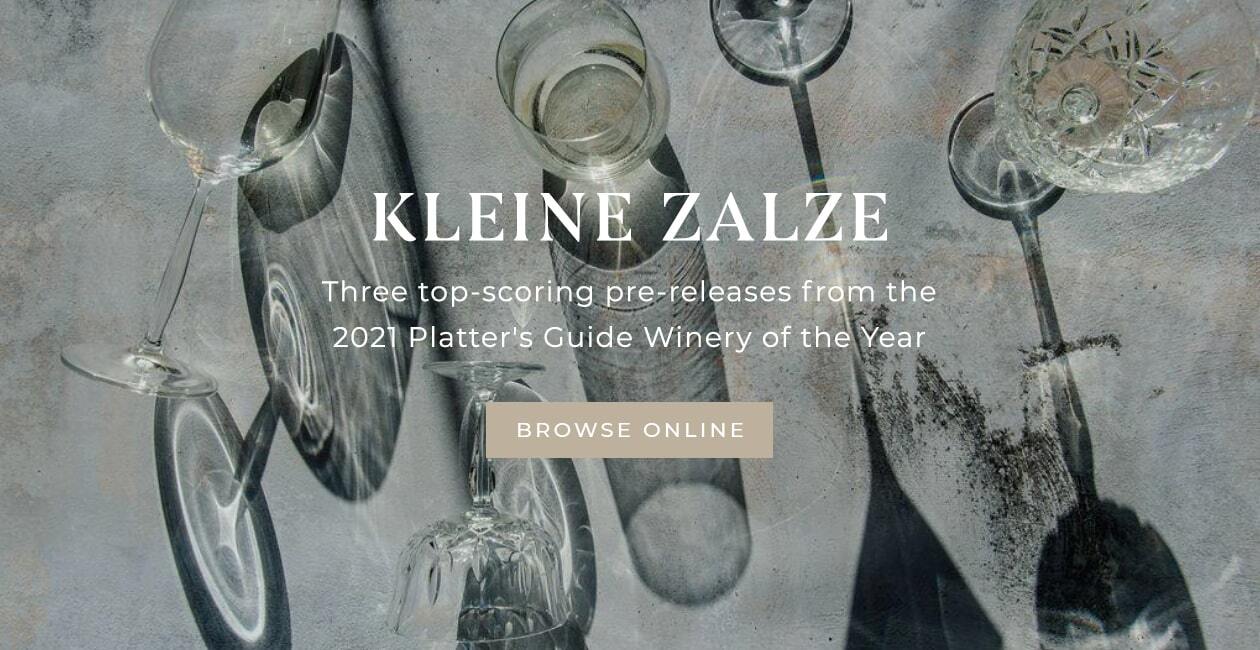 As for the 97-point 2019 Family Reserve Chenin Blanc, Platter's says how this 'acclaimed white flagship beautifully expresses the vivacity of the grape in 2019'. With many awards to its name, it has become one of the most consistent old-vine Stellenbosch Chenins. Rounding out the Platter's 5-star offering is the 96-point 2019 Family Reserve Sauvignon Blanc. Fuller bodied in style, with stone fruit, lovely concentration and a refreshing, herbal edge, this wine should age particularly well.
* Please note, these limited, pre-releases will only ship after 2 April 2021.
The other main haul of 5-star awards went to their Project Z range. Here, the Kleine Zalze winemaking team have been given free rein to produce unique and boundary-shifting wines. In addition to the pre-releases above, we have a few bottles of their very limited Project Z wines, including the stellar 96-point Project Z Chenin Blanc 2018.
Tasting notes:
Kleine Zalze, Family Reserve Cabernet Sauvignon 2017
2017 deftly marries power with restraint; infused with deliciously rich berry fruit & hint of ripe plum. 18 months 20% new French oak polish the tannins, add dark chocolate to elegant texture, broad lingering finish. 14.8% alcohol. Deserves a decade's patience. – Platter's Guide, 5* (95/100)

This is intensely herbal and vibrant on the nose, with prominent notes of cigar tobacco, mint, black licorice, chicory and heavily steeped black tea atop a tight fruit core of cassis and black plum. It's dense, dark, firm and brooding in character, as the palate follows suit from the bouquet in a seamless fashion. Super tense and direct at the moment, it boasts abundant black fruit and plentiful spice characteristics that are supported by bright black-currant acidity and a framework of supporting yet not overly gripping tannins. Despite its power, it's quite sexy in feel, well balanced among all its strong elements with an endless finish. A powerhouse for long-term enjoyment that will continue to evolve and impress. – Lauren Buzzeo, Wine Enthusiast, 93-95/100
Kleine Zalze, Family Reserve Old Bush Vine Chenin Blanc 2019
Acclaimed white flagship beautifully expresses the vivacity of the grape in 2019, shows lovely poise & intensity of flavourful fruit (lemon, apricot, melon & honey) & given broad vanilla support from judicious older-barrel ferment/8 months ageing. Stellar now & for many years. – Platter's Guide, 5* (97/100)
Kleine Zalze, Family Reserve Sur Lie Sauvignon Blanc 2019
Harmonious & full, with great concentration & length from 7 months on lees, 2019 showcases the glossy, vivid gooseberry, fig, blackcurrant & citrus peel aromas & flavours of Durbanville & Darling fruit. Deeply satisfying & stylish. Will age well, like 2018 (4.5 stars, 93 pts). – Platter's Guide, 5* (96/100)