After much anticipation and some high praise both internationally and locally, the 2015 Glenelly Lady May is finally available. This flagship release is now vying for the title of best Stellenbosch Bordeaux red; delivering on all expectations of one of the finest Stellenbosch properties. It is pure class.
Cabernet Sauvignon-based with 13% Cabernet Franc, 11% Merlot and 7% Petit Verdot, the 2015 Lady May exudes elegance and finesse with fine-grained tannins and a fresh, detailed finish. At a tasting earlier this year, it stood tall alongside Bordeaux greats from the equally impressive 2015 Bordeaux vintage. Local wine writer Christian Eedes went so far as to highlight it as the best in the line-up with 96 points.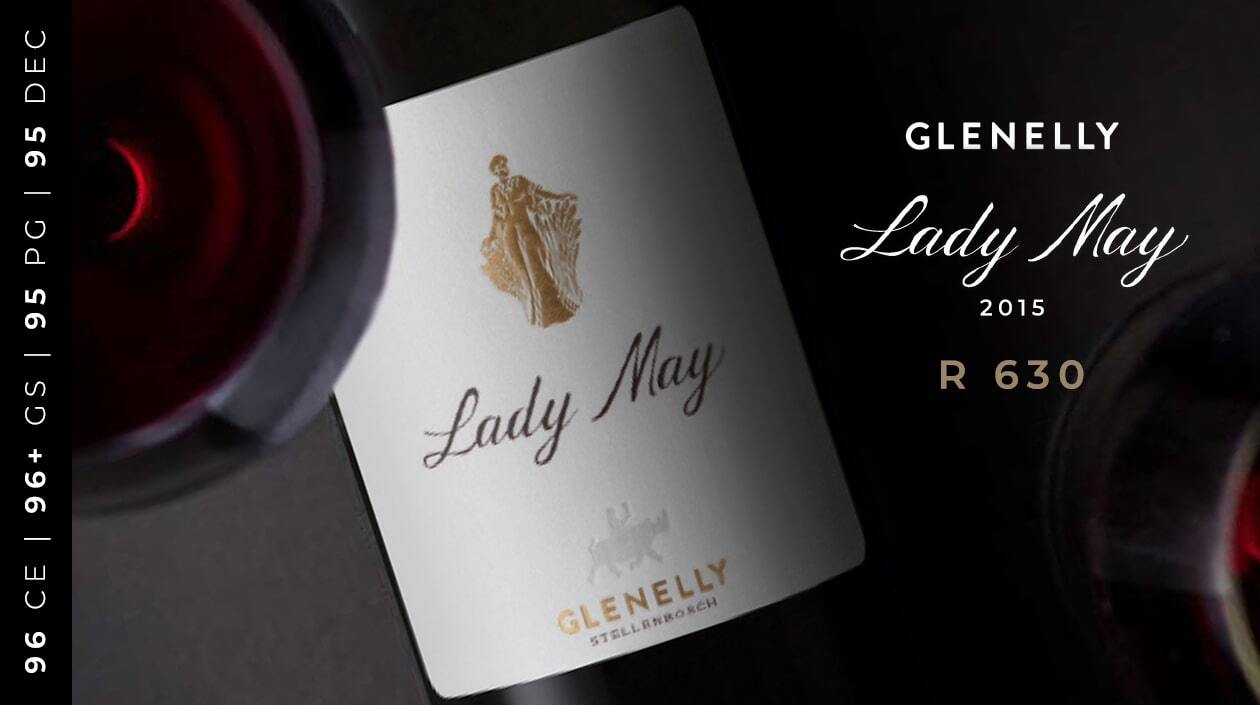 From one of the greatest modern-day vintages and offering excellent maturation potential, its pedigree was confirmed after attending a tasting of all vintages back to the maiden-release 2008. In Tim Atkin MW's words: 'very much a wine that is built to last.'
Glenelly was acquired in 2003 by Madame May-Eliane de Lencquesaing of Château Pichon Longueville Comtesse de Lalande in Pauillac, Bordeaux. May's vision was to transform the property into one of the finest wine producers in Stellenbosch. This release firmly delivers on that promise. As Decanter's Tina Gellie comments, 'it's hard to believe that the vines were only 10 years old for this wine, such is its power and concentration,' scoring it 95/100.
Tasting notes:
Glenelly, Lady May 2015
The 2015 vintage of Lady May, the top-end Cape Bordeaux red blend from Stellenbosch property Glenelly, is due for release shortly and winemaker Luke O'Cuinneagain recently hosted a small tasting to see how his wine might fare against two leading examples of the same vintage from Bordeaux, namely Rauzan-Ségla 2015 from Margaux and Cos d'Estournel from Saint Estèphe, both second growths. 69% Cabernet Sauvignon, 13% Cabernet Franc, 11% Merlot and 7% Petit Verdot. Cassis, violets, fynbos and dark chocolate on the nose – that much more immediate and expressive than either of its two Bordeaux counterparts. The palate is full but balanced with dense fruit, good freshness and firm but fine tannins. Showing both focus and poise, this was my top wine of the trio right now although I did wonder if it will last quite as long. – Christian Eedes, 96/100 (January 2021)
Profound, graceful, 2 years in 92% new oak, a Bordeaux blend as always, cabernet led – 69% in 2015. Brooding blackcurrant, mulberry fruit in complex harmony with loam, graphite & crushed herbs. A collector's item – decant for now. – Platter's Guide, 95/100 (5 stars)
Winemaker Luke O'Cuinneagain says this vintage won't be released until late 2021 (or perhaps even 2022 if Covid-19 delays things further), but that extra time will only benefit what is a 'textbook' vintage. It's hard to believe that the vines were only 10 years old for this wine, such is its power and concentration. Compared to the 91% Cabernet Sauvignon of 2008, this vintage is now 69%, with 13% Cabernet Franc, 11% Merlot and 7% Petit Verdot – a blend O'Cuinneagain thinks is 'about perfect'. Tight and closed still, with chewy tannins, crisp acidity and lots of cedar oak. Muscular black and blue fruit lurks behind along with iron shavings. All the elements for a great wine, with fine ageing potential. Drinking window: 2020 – 2036. – Decanter, 95/100
Deep, dark and broody, this wine speaks with all the authority and confidence of a 5-star block buster vintage. Brimming with black menthol cassis, boiled black berry sweets, black cherry and tight grained cedar spice, this wine wears a super hero gown of graphite and stony minerality and whispers quality from the moment it hits the glass. Tight, focused and impressively compact, there is a seamless saline black currant balance with linear polished marble tannins and a super intense concentration. This is the culmination of years of winemaking refinement and is without doubt the finest red wine produced to date at the Glenelly Estate revealing the true terroir quality potential of these groomed, premium Stellenbosch vineyards. Drink from release with decanting and over the next 20+ years. – Greg Sherwood MW, 96+/100