Weingut Willi Schaefer is undoubtedly one of the greatest producers in Germany today. Their Mosel Rieslings have developed a cult-like following, and their popularity is further enhanced by their extreme scarcity. '[The Willi Schaefer 2019s] are absolutely brilliant and possibly include some of the finest I have tasted here,' writes Stephan Reinhardt from the Wine Advocate.
Andrea and Christoph Schaefer produce benchmark, terroir-driven Rieslings from 4.2 ha spread over 100 plots. The estate focuses on two vineyards in the village of Graach – Himmelreich and Domprobst. Himmelreich produces delicately floral and mineral wines, whilst the Domprobst wines are deeper, more powerful and darkly mineral. Crystalline and complex, both wines possess stunning refinement, grace and ageablity.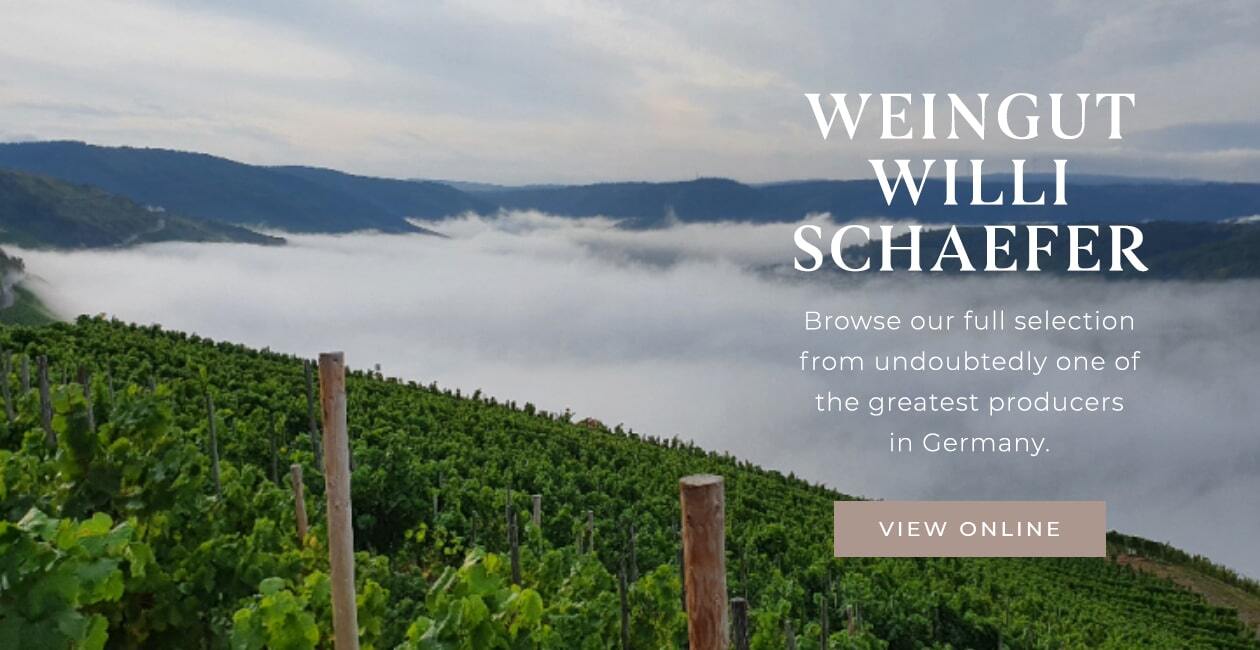 For Willi Schaefer and his fellow producers in the Mosel, 2019 was a great vintage. James Suckling writes that 'the Mosel's 2019 is one of the greatest vintages of modern times and will be remembered for decades, possibly generations,' adding that 2019 is 'the best vintage I have ever tasted for German Riesling in my four-decade career'.
Spätlese means late harvest and can be medium-dry to medium-sweet depending on the vintage. 'The 2019 Prädikatsweine show Willi Schaefer at its very best and their sweet predicates are hard to beat,' writes Wine Advocate, stating, 'the wines already drink dangerously well yet can be aged for up to 30 years easily.'
Tasting notes:
Willi Schaefer, Graacher Domprobst Riesling Spätlese AP 10 2019
The 2019 Graacher Domprobst Riesling Spätlese #10 is intense and floral and later flinty and smoky on the nose that displays ripe and sun-spoiled notes. Lush and precise on the refined and crystalline palate, this is a more generous and refined Spätlese with a quiet flow and a stimulatingly salty finish. Tasted from AP 10 20 in June 2020. 2025 – 2060. – Stephan Reinhardt, Wine Advocate, 96/100

AP number 10 20. RS 70 g/l. NB the AP number. Restrained pear-juice nose. Still quite tight with marked acidity. A little backward. 2022 – 2032. – Jancis Robinson, JancisRobinson.com, 16.5/20
Willi Schaefer, Graacher Himmelreich Riesling Spätlese AP 08 2019
The 2019 Graacher Himmelreich Riesling Spätlese is precise, fresh and pure on the nose that displays notes grated lemon rind and crushed stones. Round, piquant and juicy on the palate, this is an utterly refined yet sustainable and firmly structured Spätlese with dense and vibrating fresh Riesling fruit whose sweetness is well-compensated by mineral grip, salinity and tension. 7.5% alcohol. Tasted from AP 08 20 in June 2020. 2025 – 2050. – Stephan Reinhardt, Wine Advocate, 94/100

AP number 08 20. RS 70 g/l. There's a little graininess somehow on the nose, something I have found before on wines from this vineyard. Very juicy palate attack – just chock-full of ripe but restrained fruit. Lovely already on the palate. What the heck is not to like? 2021 – 2032. – Jancis Robinson, JancisRobinson.com, 17/20