Our new shipment of Gabriel-Glas Standard Edition glasses reached our shores yesterday! It is finally time to stock up and replace the glasses broken during lockdown's virtual dining experiences and zoom tastings. Privately and professionally, we love Gabriel's universal 'one for all' glasses and cannot recommend them enough. When switching from Champagne to Riesling to Syrah to Port during dinner or a tasting, this is the only wine glass you'll need.
Recently, the Gabriel-Glas Gold came out on top in a taste-off between various glasses to find the best all-round glass (read the article). Their most important conclusion: shape matters.
'It's essential that the wine is given space to breathe in the glass and that the aromas are channeled effortlessly towards the nose and palate. The perfect shape seems to be the slightly 'plumped' bowl of the Gabriel.' – Club Oenologique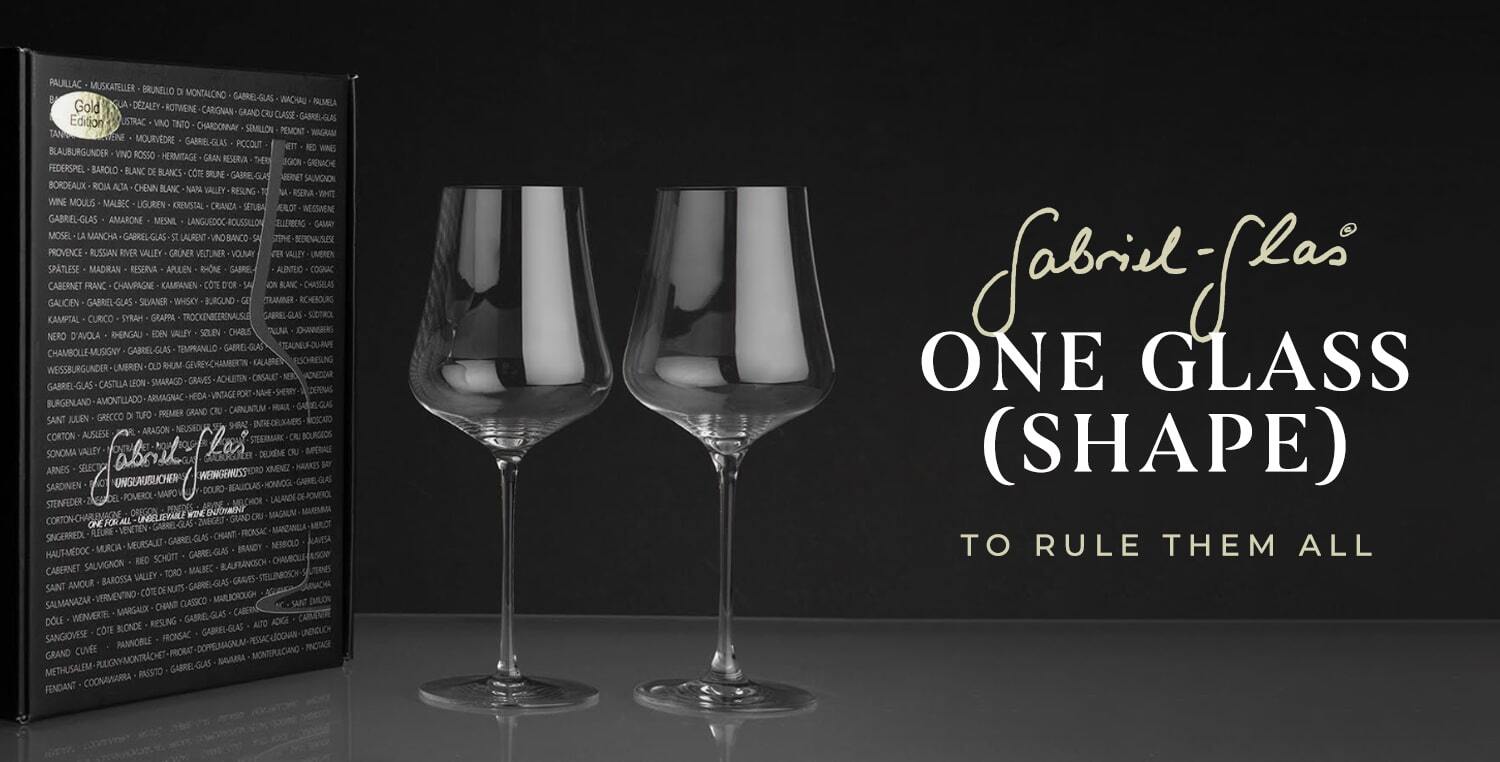 Today, we offer the Standard Edition glasses in both 6-packs and 2-piece gift packs. The Standards are more robust than the Golds and are the best value universal wine glasses on the market! Crafted from lead-free Austrian crystal, they are incredibly versatile and can handle any pour.
In a world with more glass options than wine regions, the Gabriel-Glas 'one for all' glass, designed by renowned Swiss wine critic René Gabriel, saves shelf space and money allowing wine lovers to spend more on their wine collections.
* Due to the pandemic, no Gabriel-Glas Golds have been manufactured since mid-2020, on account of being mouth-blown. We have a standing order for when the factory resumes production, so please let us know if you would like to be on the waiting list.
WE'RE NOT THE ONLY ONES WHO LOVE THEM…
'It's pretty close to the ideal Swiss army knife glass in that you can use it for pretty much any wine and it costs about half of most top-end stemware.' – Matt Crafton, Château Montelena
'Convenience matters. Satisfyingly graceful and easy to reach for.' – Forbes
'You'll be able to notice the difference in how it makes your wines sing no matter the style of wine you pour in it. Wines are lifted and more expressive.' – Vogue
'It delivers flavours in a sequential manner. This trait makes Gabriel-Glas fantastic for blind tasting and for improving your palate. The fruit delivery was equal to Zalto, but more fresh in style.' – Madeline Puckette, Wine Folly
'A gorgeous artefact with serious practical purpose, lovely to hold and to use.' – Club Oenologique