Hannes Storm is making the best Pinot Noirs in SA right now and his small-batch wines are in high demand. Focusing on purity and freshness, his latest set of 2019 Storm Pinots all share a thrilling, crystalline purity of fruit, linear and precise acidity, and elegant, subtle tannins. Each distinctly expresses its terroir. His 2020 Chardonnays are both wonderfully crafted, modern wines with taut acidity and dry, focused finishes.
As usual, the 2019 Vrede Pinot Noir is the most structured and powerful of the three. Stunning and fine-boned, it will need at least 2 – 5 years to show its best.
Aromatically, the 2019 Ignis Pinot Noir is the most beguiling of the line-up. With notes of tea leaf, wild strawberry and fynbos, the nose follows on to a sensual, softer palate.
The 2019 Ridge Pinot Noir is much darker-fruited with attractive, earthy notes, some iron, and a touch of bay leaf complexity. With a deeper and more sumptuous palate, it is so delicious.
All three Pinots need time before broaching.
The 2020 Vrede Chardonnay has a youthful nose with some oak spice and ripe peach. There is lots of flavour on the palate with pointed acidity on the finish. The balance of fruit and freshness is impressive!
The 2020 Ridge Chardonnay has a sunny nose of tinned peaches and ripe stone fruit with a rounder, more viscous palate. It offers layers of ripe fruit, yet ends taut and focused. Unfortunately, there is very little available.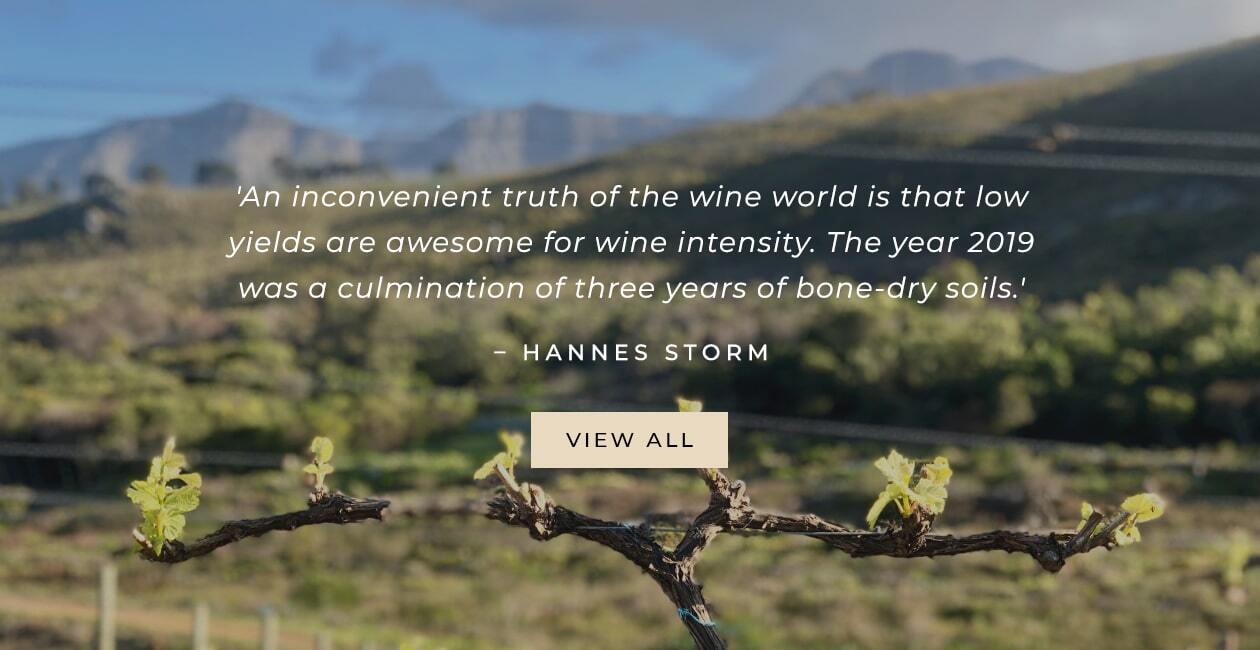 Tasting notes:
Storm Wines, Vrede Pinot Noir 2019
Vrede Pinot Noir hails from a steep, northeast-facing slope in the Hemel-en-Aarde Valley with low-vigour, stony, clay-rich Bokkeveld shale soil.

Yields were down by 50% in this small, dry vintage, not helped by the fact that Vrede is an unirrigated vineyard, but the quality of this stunning Pinot Noir was as high as ever. Planted in 2008 with clones 113 and 115, it's one of the best sites in the Cape. Pale, floral and sweet, with rose petal and wild strawberry fruit, fine tannins, subtle 10% whole bunch spice and wonderful palate length. 2021-27. – Tim Atkin MW, 96/100
Storm Wines, Ignis Pinot Noir 2019
Ignis Pinot Noir hails from a northern slope in the Upper Hemel-en-Aarde Valley. Organically farmed, the vineyard is cluttered with round pebbles on the soil surface with underlying decomposed granite. Latin for 'fire', ignis refers to the fact that granite is an igneous rock formation – 'from fire to stone'.

The pinots treated identically in cellar (but for slight variances in 25% new-oak & 20% wholebunch portions) to express terroir. Here light-structured decomposed granite of Upper Hemel-en-Aarde. 2019's raspberry & cranberry generosity wraps athletic frame, thrilling acid tension & oystershell persistence promising minimum decade improvement. – Platter's Guide, 5* (95/100)

Ignis comes from the Upper Hemel-en-Aarde Valley, the middle of the three sub-regions, just two kilometres from Vrede. Planted in 2008 on decomposed granite soils, this vineyard tends to ripen earlier than Hannes Storm's other plots. Savoury, scented and delicate, it has Chambolle-Musigny like finesse and sweetness and some underlying grip – the 'bass note of clay', as he calls it. 2022-27. – Tim Atkin MW, 94/100
Storm Wines, Ridge Pinot Noir 2019
Ridge Pinot Noir hails from a cool, eastern slope in the Hemel-en-Aarde Ridge with low-vigour, stony, clay-rich Bokkeveld shale soil.

Ridge comes from the Hemel-en-Aarde Ridge and is the youngest of the Storm Pinot Noir vineyards, located on the same shale soils but at a considerably higher altitude. Darker in colour than Hannes Storm's other wines, it's dense, fresh and a little tighter with dark cherry and graphite notes and a savoury, spicy finish. 2022-27. – Tim Atkin MW, 95/100
Storm Wines, Vrede Chardonnay 2020
Vrede Chardonnay – or Peace Chardonnay – hails from a northeast-facing slope in the Hemel-en-Aarde Valley with low-vigour, stony, clay-rich Bokkeveld shale soil.

Storm Vrede Chardonnay 2020 is viscous, with citrus, lime, lemon and white pear. Undertones of ginger and spice, subtle wood and fresh, zesty minerality. – Hannes Storm, Storm Wines
Storm Wines, Ridge Chardonnay 2020
Ridge Chardonnay hails from a cool, eastern slope on the Hemel-en-Aarde Ridge with low-vigour, stony, clay-rich Bokkeveld shale soil.

Storm Ridge Chardonnay 2020 is a classically styled expression, taught, tight and chiselled – a medley of nectarine and citrus fruit with a refreshing, persistent finish. – Hannes Storm, Storm Wines