Port is making a comeback. In a similar trend to the growing appreciation for small-batch, hand-crafted spirits such as vermouth, sherry, rum and gin, Port is recapturing the hearts and palates of the world.
The birthplace of Port, the Douro Valley in Portugal, is one of the world's most historic wine regions – demarcated in 1756, almost a century before the famous Bordeaux classification. Whilst their Douro table wines have been making headlines recently, Niepoort Vinhos, established in 1842, have been producing phenomenal Port for over a century. Earlier this year, Niepoort's Vintage Port 2017 won the title of 'Best Port in the World' and was awarded 100 points by Wine Advocate.
At only R190 per bottle, both the Ruby and Tawny Port are excellent 'starter-Ports' in understanding this fascinating category and keeping you warm this winter.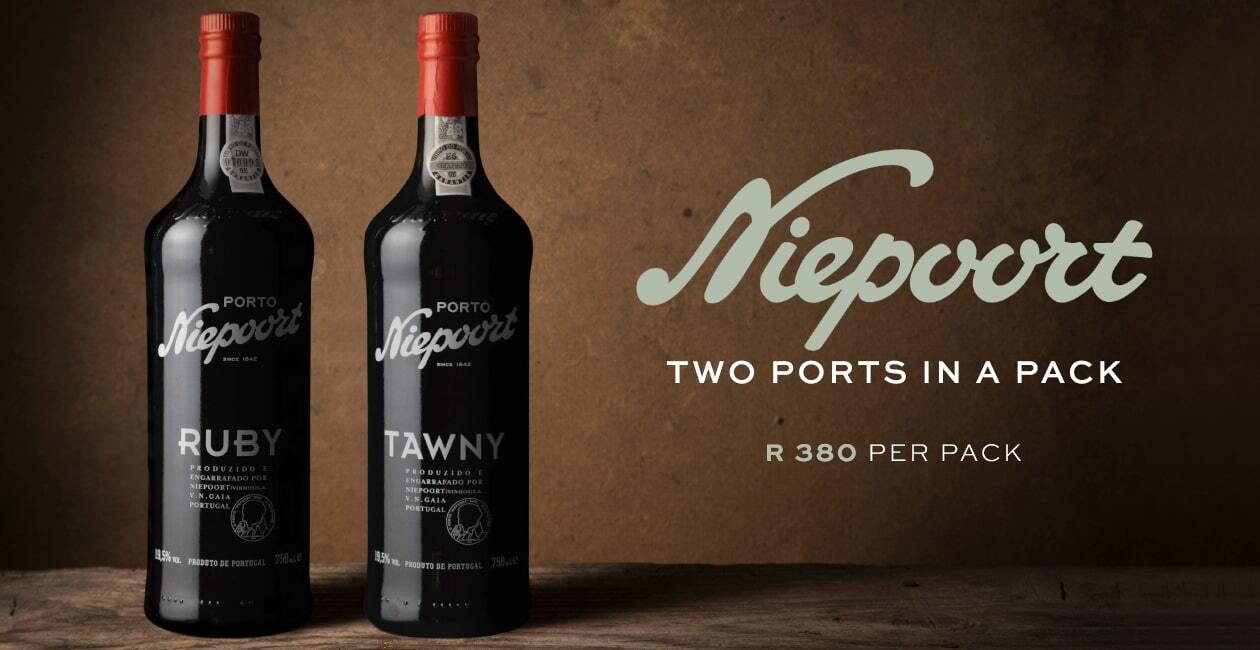 Ruby Port is young and vibrant with dark red fruits – perfect as a stand-alone dessert or with soft cheeses. It is the most widely produced Port style and aged in cask for 3 years.
Tawny Port is aged for slightly longer, developing from brick red to a characteristic tawny colour. Balance is key here – it has delicate aromas of nuts and dried fruits, and incredible freshness on the palate. It makes for an amazing aperitif, served before dinner and slightly chilled. Great with chocolate desserts, cheese like Cheddar, Gouda and Brie, and red meat dishes.
Both wines are field blends from low-yielding, old vines in Cima Corgo, Douro. Hand-harvested and foot trodden in lagares*, the wines are then aged in large, wooden vats in their lodges* in Vila Nova de Gaia. Whilst more than 80 varieties are permitted in producing Port and about 30 recommended, the Niepoort Tawny and Ruby Ports mostly feature Touriga Nacional, Touriga Franca, Tinta Roriz, Tina Cão, Tinta Francisca, Tinta Amarela and Sousão.
* Lagare: Portuguese term for large, open vats or trough, typically made of stone, in which wine grapes are crushed by foot.
* Lodges: Where ageing takes place and thus the endpoint of the journey of port wine down the river from the quintas (wine estates) of the upper Douro valley.
Tasting notes:
Niepoort, Tawny Port NV
'Shows good power to the dried raspberry, cherry and brambly flavors, with focused accents of milk chocolate. Offers a broad, spicy finish. Drink now. 500 cases imported.' – Kim Marcus, Wine Spectator, 88/100

'In the hands of master blender Dirk Niepoort, even a straight tawny style has depth of flavor and intensity. The wine has red fruit, layered with concentrated acidity, a hint of wood aging, and remains fresh and fruity.' – Roger Voss, Wine Enthusiast, 88/100

'Brick red/tawny in colour, with delicate nutty aromas and a hint of dried fruits. On the palate, very well balanced with a youthful fruity, luscious character, which integrates well with a long spirity finish.' – Niepoort
Niepoort, Ruby Port NV
'This fresh, powerful ruby features lots of plush dark plum and sweet cherry flavors, with notes of milk chocolate. The spicy finish is fresh, juicy and balanced.' – Wine Spectator, 89/100

'Dark red in colour, with a fresh vibrant aroma of dark fruits which follows through on the palate along with a mineral character, a youthful wine with good extract and great balance, offering superb 'drinkability'.' – Niepoort