Produced in limited quantities, we are again lucky to get a small allocation of the wonderful Miles Mossop 2020 Chapters. The 2020s are the third tranche of Miles's terroir-specific series and offer great fruit purity and nuanced precision. All five bottlings are defined by 'place' and exhibit Miles's particular talent for coaxing subtle detail from exceptional vineyards. To our minds, these stunning, single-terroir cuvées offer exceptional value.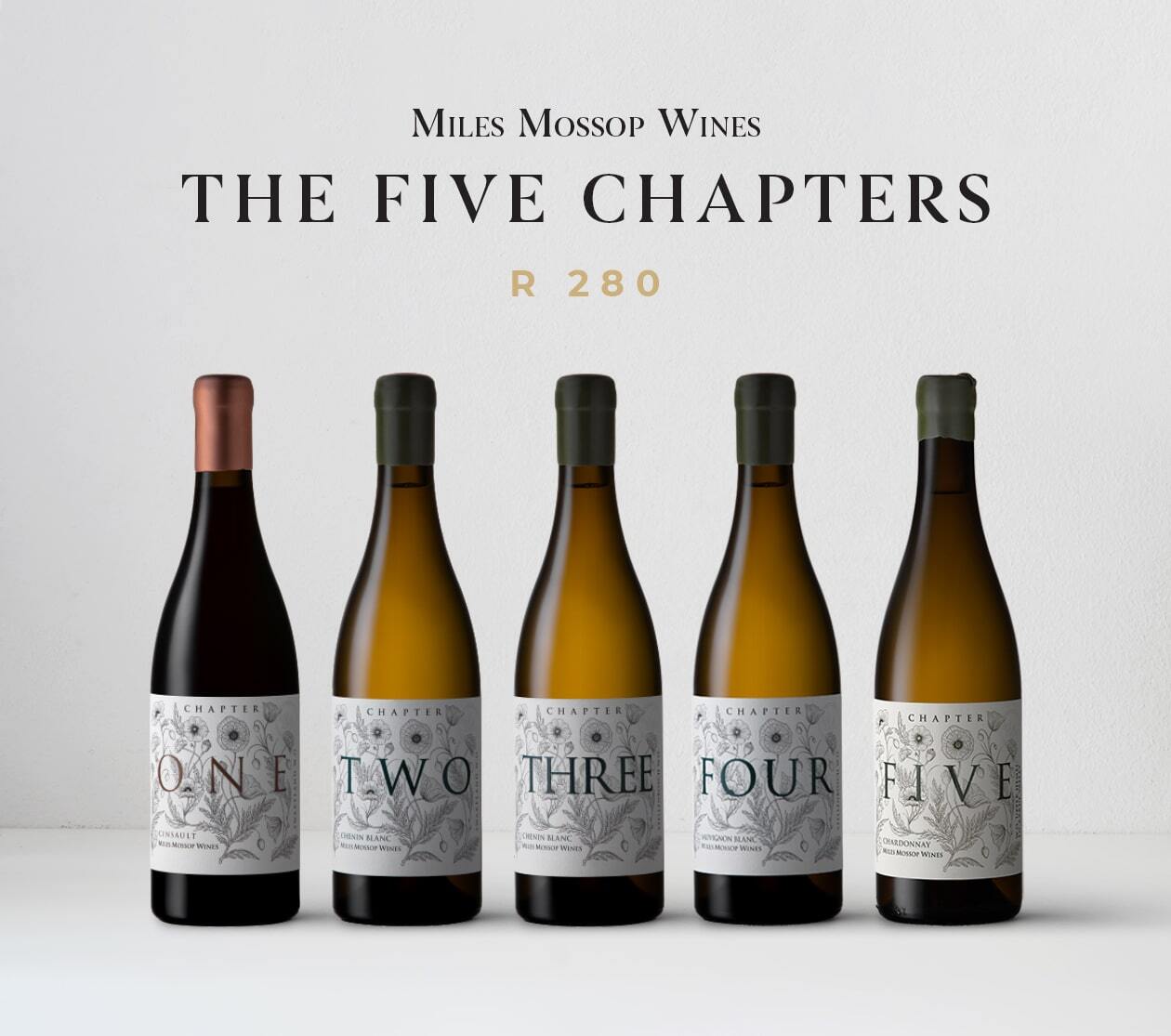 With two decades at the helm, Miles Mossop helped Tokara become one of the finest producers in SA and left a legacy of impressive, award-winning releases. His solo journey is now well-established with an incredible set of wines – his focus shows!
The 2020 Chapter One is a knockout Swartland Cinsault from the Darling side. There is lots of exotic exuberance balanced by a savoury and dry palate. It is fresh yet quietly serious.
The 2020 Chapter Two Chenin Blanc is rich, sunny and full of ripe peach with the typical Paardeberg stone fruit and a broad, savoury palate. It's slightly softer in 2020.
From Bottelary in Stellenbosch, the 2020 Chapter Three is a particularly fine Chenin Blanc. It has a hint of reduction and white stone fruit over a poised, balanced palate of crushed-stone minerality. The 2020 is excellent!
The 2020 Chapter Four is a serious, Bordeaux-like 100% Sauvignon Blanc that has stepped up a notch in 2020. Using Stellenbosch fruit, it exhibits notes of blackcurrant leaf, spice and white peach and is rich and full on the palate.
Finally, the 2020 Chapter Five – the new addition to the range – is a sexy Hemel-en-Aarde Chardonnay. Soft, juicy and balanced, Miles clearly knows how to make top-notch Chardonnay!
Tasting notes:
Miles Mossop Wines, Chapter One 2020
'This wine expresses the purity of Cinsault fruit with fine grained tannins on the finish. This wine has a vibrant cherry red colour. There are stunning perfumed aromas of rose petals, bramble fruit and fresh herbs on the nose. The palate bursts with flavours of concentrated blackcurrant, red berry fruits, dried Italian herbs and white pepper spice. The palate is dry with fine grained emery paper tannins on the finish. Delicious on its own, served slightly chilled or will pair beautifully with charcuterie.' – Miles Mossop
Miles Mossop Wines, Chapter Two 2020
'The nose of the wine is bursting with complex aromas of yellow and white peach, citrus blossom, dry straw and toasted almonds. The palate is full of the flavours evident on the nose with a hint of tart quince and pithy notes on the midpalate. There are flavours of toasted almonds and creamy notes evident due to time on the lees in barrel. The wine still finishes with clarity and freshness.' – Miles Mossop
Miles Mossop Wines, Chapter Three 2020
'The nose of this wine has subtle aromas of fresh white peach, lemons zest and perfumed citrus blossom. There are hints of fresh brioche and toasted almonds. The wine enters the palate with all these fresh subtle fruit and floral notes evident on the nose but leads to a surprisingly rich mid-palate and pithy texture towards the finish. The finish is vibrant, fresh and lingering. This wine has perfect balance and poise.' – Miles Mossop
Miles Mossop Wines, Chapter Four 2020
'The nose bursts with aromas of passion fruit, quince and guava with underlying notes of lemon grass, fresh brioche and white pepper spice. The palate is crisp and clean, packed with zesty grapefruit citrus, lemongrass, quince and passion fruit notes. Creamy leesy notes on the mid-palate. Counterbalance the mouthwatering acidity on the finish.' – Miles Mossop
Miles Mossop Wines, Chapter Five 2020
'The nose displays typical cool climate Chardonnay notes of citrus and elderflower. This is balanced with notes of toasted oak, freshly baked bread, roasted almonds and a hint of flint. The palate is full and rich with vibrant grapefruit and lemon zest flavours leading to a structured mid-palate with obvious oak, beautifully balanced by a mouthwatering freshness and salinity on the finish.' – Miles Mossop