There was tangible excitement from Duncan Savage when we tasted these new releases last week. His wines offer exceptional value considering their rarity, rock-star credibility and quality. As he continues his pursuit of purity and vinosity, his wines have become some of our fastest-selling annual releases.
The 2020 Savage White has reverted to its original Cape Bordeaux style (76% Sauvignon Blanc and 24% Sémillon). With white stone fruit, trademark black currant notes and saline undertow, it is a Duncan Savage classic. Following on from the stunning 2018, the 2019 Savage Red has more depth and power without sacrificing any of its vibrancy and poise. 100% Syrah, grown organically in Stellenbosch, it is another high-scoring Polkadraai Syrah of exceptional quality.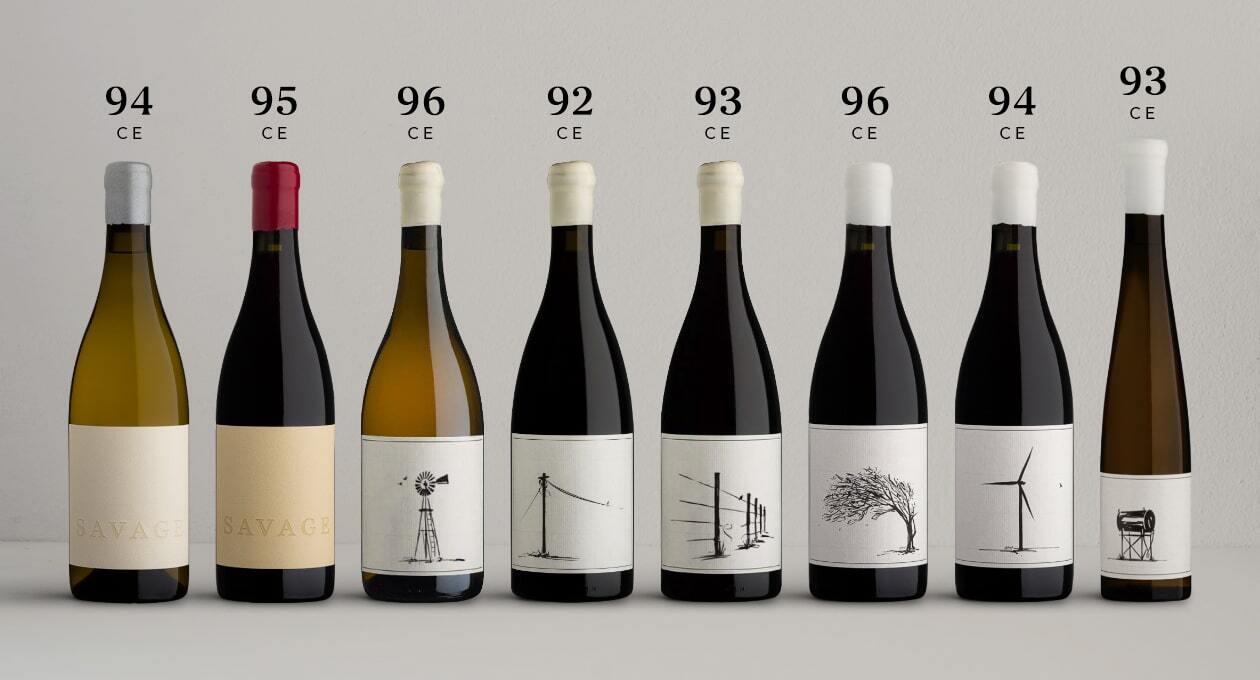 As for the improvements in the vineyard, Duncan's eyes sparkle when he speaks about it. 'The increments to be had in the cellar are tiny while they are infinite in the vineyard,' he enthuses. These improvements are most noticeable in the 2020 Never Been Asked To Dance Chenin Blanc, which is exquisitely balanced.
The 2020 Follow The Line Cinsault is wonderfully perfumed, light-footed and delicate. The 50% whole bunch adds tension to counter its exuberance – one for the Cinsault enthusiasts.
There is great definition to the Grenache-based 2020 Thief In The Night. As in the past, the fruit comes from the same Piekenierskloof Grenache vineyard as Eben's Soldaat. The 2020 has a bit more grunt but maintains Duncan's signature purity and his best iteration to date!
The 2020 Are We There Yet? is a 50:50 blend of Touriga Nacional and Syrah from Malgas. Tight and inwardly coiled, it offers lots of blue fruit and savoury, Syrah balance. Underscored by powerful, ripe tannins, it will require time in the cellar and is, as Christian Eedes notes, 'perhaps the best resolved vintage to date while remaining as flavourful as ever.'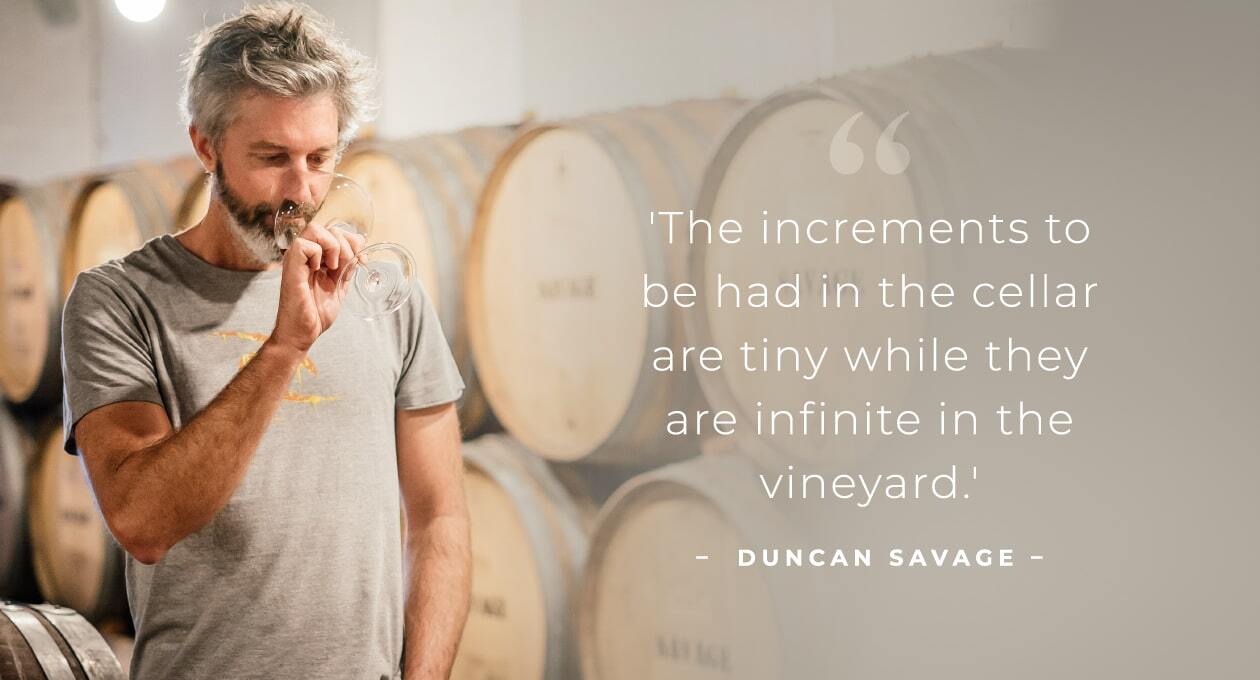 Allocation only
The 2020 Girl Next Door Syrah is a touch lighter than the 2019 but remains a profound maritime-style Syrah. From a small 0.38-ha vineyard in Kommetjie, it is just as delicious and gorgeous as always. The 2020 Not Tonight Josephine is produced from a Chenin vineyard at 700m above sea level in Piekenierskloof. As a result, the wine has high, natural acidity. Produced in minute quantities, the 2020 joins the growing number of exceptional South African straw wines.
Tasting notes:
Savage, White 2020
'76% Sauvignon Blanc and 24% Semillon (the first vintage since 2014 to exclude Chenin Blanc) from Kaaimansgat, Villiersdorp and Stellenbosch. Matured for 10 months in old 500-litre barrels. Expressive aromatics of naartjie, peach, blackcurrant and just a touch of granadilla and pineapple. The palate is rich and dense (alcohol is 14%) with well-integrated acidity. Polished, plush and poised.' – Christian Eedes, Winemag, 94/100

'It's been in the pipeline for a long time and now with the 2020 Savage white blend, Duncan Savage has returned to his roots to create a traditional blend of Sauvignon Blanc (76%) and Semillon (24%) with all minority portions of either Chenin Blanc or Clairette Blanche now removed. Sourced from trellised and bush vine vineyards across the Western Cape, the grapes were whole bunch pressed before undergoing spontaneous wild fermentation. With the high Sauvignon Blanc component, the aromatics show a pronounced spicy, herby, savoury tinged array of waxy green apples, white citrus, clementine, honied chamomile and root fennel with subtle hints of dried fynbos and lanolin. The palate is masterfully rich and broad, coating all corners of the palate with intense, crystalline notes of spicy yellow grapefruit, freshly squeezed tangerines and white peach cordial notes. The acids are intense but wonderfully tangy adding to a real sense of textural harmony and mineral complexity. A very complete wine that races out the blocks and will undoubtedly give plenty of drinking pleasure immediately on release. Drink now and over the next 4 to 6+ years.' – Greg Sherwood MW, 94/100
Savage, Red 2019
'From Stellenbosch Syrah. 70% whole-bunch fermentation. Red and black berries, white pepper and fynbos on the nose while the palate is medium bodied with good fruit expression, fresh acidity and powdery tannins. Seamlessly made, it's already quite approachable but equally has the structure to reward some bottle maturation.' – Christian Eedes, Winemag, 95/100

'In 2017 the Savage Proprietary Red became a pure 100% Syrah wine and from 2018, the fruit was exclusively sourced in Stellenbosch from vineyards grown on decomposed granite soils in the Polkadraai Hills from organically farmed grapes. Always released a year behind the rest of the Savage range, this 2019 is a dense, dark, potent red from a powerful, concentrated, minerally focused vintage. On the nose the aromatics are marked by intense notes of earthy red and black berry fruits, inky saline notes of black cherries, pink musk, savoury cured meat nuances, black olives and a sappy cedary wood spice complexity. With 70% of whole clusters used in the fermentation, the palate shows pronounced chalky mineral tannins but also vibrantly fresh crunchy acids from the granitic soils. Raspberries and blueberries surge to the fore on this dense, powerfully structured wine, gaining in richness and intensity as the wine slowly unfurls in the glass. Like some of the greatest expression of Syrah in Cote Rotie, this wine shows a focused prowess and concentration together with an opulent richness framed by an underlying stony minerality. A wine with undeniable focus and structure but also a surfeit of seductive charm. Drink from 2022 to 2035+.' – Greg Sherwood MW, 95+/100
Savage, Never Been Asked To Dance 2020
'Chenin Blanc from a Paarl vineyard planted in 1956. The nose is complex with notes of pear, peach, citrus, herbs and a hint of wet wool. The palate shows great clarity – concentrated fruit, punchy acidity and a savoury, slightly bitter finish. Manages to combine weight and texture with a particular energy.' – Christian Eedes, Winemag, 96/100

'The 2020 vintage releases see a very welcomed return of Duncan's fabulous old vine Chenin Blanc sourced from a 67 year old organic dry farmed bush vine vineyard grown on decomposed granite soils. Whole bunch pressed and spontaneously fermented in neutral Stockinger 600 litre barrels, this third release screams its granitic terroir with complex aromatics dominated by notes of crushed gravel, wet grey slate, struck flint and an understated petrichor character that combines with subtle notes of peach stone, toasted almonds and lemon grass herbal nuances. Like most old vine Chenin Blanc grown on granitic soils, this terroir lends quite a severe, austere and minerally taut styling to the palate in the wine's youth with plenty of wet river pebble stony undertones, crunchy yellow orchard fruits and refined pineapple pastille notes. The finish is dry and slightly rasping but shows great persistence and intensity, finishing with last ripples of dried herbs, yellow apple skins and a mouth-watering saline bite. If the 2017 and 2018 are anything to go by, this wine simply needs a few years in bottle to truly blossom, but when it does, it's a true thing of vinous beauty. Drink from 2023 to 2034+.' – Greg Sherwood MW, 95/100
Savage, Follow The Line 2020
'From Darling Cinsault plus a small portion of Syrah. 50% whole-bunch fermentation. Raspberry, ruby grapefruit, herbs and slight peppery note on the nose. The palate is lean and fresh with some stalky bite on the finish – a delicate wine.' – Christian Eedes, Winemag, 92/100

'Now in its seventh vintage, the Follow the Line red from Duncan Savage has almost certainly become one of the most highly respected old vine Cinsault reds in South Africa. As always, the fruit comes from a 40-year-old dry farmed bush vine vineyard in Darling grown on decomposed granite soils. The 2020 also includes a small 9% portion of Syrah sourced from the same Darling property with 50% of the fruit fermented as whole clusters. Every vintage that passes sees Duncan fine tuning and refining this wine that always boasts an incredibly perfumed floral bouquet of violets, pressed rose petals and hints of cherry blossom that melt into pronounced notes of earthy lavender, coriander and Turkish delight. The palate is incredibly cool and suave with bright tingling cherry acids, a silky weightless concentration, crystalline wild strawberry and red cherry fruits and the most delicate lacey tannins on the finish. This is a very polished, ethereal, classy effort with so many of the Cinsault characteristics drawing an undeniable resemblance to young, premium Cotes de Beaune Pinot Noir. Approachable on release, but cellar-worthy for at least 10+ years, don't miss this new release.' – Greg Sherwood MW, 95/100
Savage, Thief in The Night 2020
'64% Grenache, 26% Cinsault and 10% Syrah, grapes from Piekenierskloof. 10 – 20% whole-bunch fermentation. Cherries, plums and a hint of spice on the nose. Medium bodied with fresh acidity and soft tannins. Nice weight and texture with lots of subtle layers of flavour.' – Christian Eedes, Winemag, 93/100

'This fabulous Grenache based blend is one of Duncan's ongoing passion projects and now in its fourth vintage is starting to show a committed consumer following. A blend of 63% Grenache, 26% Cinsault and 11% Syrah from dry farmed bush vines grown on sandstone soils, the fruit was spontaneously co-fermented using wild yeasts employing 20% of whole clusters. This 2020 shows a delightful autumnal aromatic profile of forest undergrowth, savoury frais de bois, tilled earth, grilled Provencal herbs and subtle shades of summer garrigue. On the palate, the wine shows plenty of textural detail, fine silky caressing tannins and harmonious fresh acids. The red and black berry fruits are earthy but impressively pure and precise, finishing with notes of bramble berries, pomegranates and sappy spice. There is a real confidence to the wine and a strong sense of terroir accentuated by Duncan's deft winemaking acumen. Rhone lovers are going to love this release. Drink now and over 6 to 8+ years.' – Greg Sherwood MW, 94/100
Savage, Are We There Yet? 2020
'A 50:50 blend of Touriga Nacional and Syrah from Malgas. 10% whole-bunch fermentation. Evocative aromatics of red, black and blue berries, dried herbs, incense and earth. The palate is full-bodied and smooth-textured, the finish long and dry. Perhaps the best resolved vintage to date while remaining as flavourful as ever.' – Christian Eedes, Winemag, 94/100

'Always an exciting wine to taste as each new vintage release seems to get better and better from maturing 15-year-old bush vines of 50% Touriga Nacional and 50% Syrah grown on a unique river pebble on shale terroir in Malgas. While the 2019 saw 100% of the grapes destemmed, the 2020 has a 10% whole bunch portion added. The aromatics are seductively dark and alluring with exotic notes of salty black currant, blueberry, black cherry and black liquorice. Wonderfully opulent and expressive, the 2020 reveals a deliciously fleshy, creamy palate with a truly seamless texture, sweet plump velvety tannins and a long saline, maritime tinged crème de cassis finish. The 2019 was more influenced by the Syrah in the blend, lending a certain savoury Cote Rotie feel to the wine, but this 2020 is decidedly more Douro'esque in stature with deliciously opulent Touriga Nacional black and blue berry fruit characteristics dominating. The evolution of this novel Savage Malgas blend is almost complete and well worth experiencing. Drink now and over 10 to 12+ years.' – Greg Sherwood MW, 95/100
Savage, Girl Next Door 2020
'From a tiny vineyard in Fish Hoek. The nose shows some flinty reduction before dark berries, pepper, kelp, sage and fennel. The palate is lean and a little angular – less immediately charming than previous vintages but still very striking. A precise wine with snappy acidity and fine tannins.' – Christian Eedes, Winemag, 96/100

'This famous, collectable micro-vinification from one of the saltiest, wind swept 0.38 hectares of organic Syrah vines near Fishhoek in Cape Town is made from 15-year-old 5-wire trellised vines on sandy gravel soils originally planted for ornamental purposes. The 2020 vintage once again sees a 50% whole cluster portion included in the natural fermentation followed by malolactic fermentation in 600 litre neutral French oak barrels before being aged for a further year in oak barrels. Initially delicately savoury and perfumed, the aromatics are fairly restrained showing notes of lavender soap, cured bresaola, hints of blood and iron, graphite and piquant plummy black berry spice. The palate texture is incredibly elegant and fine boned showing light touch winemaking, silky soft dry powdery tannins and a smooth, cool, classical finish revealing black berry fruits, black peppercorns and a gentle maritime salinity. A very fine, supple, complete expression of Syrah that is perhaps a little more understated than previous vintages but nonetheless thoroughly delicious and enchanting. Drink now and over the next 8 to 10+ years.' – Greg Sherwood MW, 94+/100
Savage, Not Tonight Josephine 2020
'A straw wine from Piekenierskloof Chenin Blanc. Peach, apricot and hay on the nose while the palate is focused and relatively light for a wine with a residual sugar of 312g/l – good fruit definition matched by a lovely line of acidity, the finish nicely dry.' – Christian Eedes, Winemag, 93/100

'First produced in 2018, needless to say, the wine was a massive commercial success and sold out incredibly quickly. To make things more complicated, no 2019 straw wine was produced. Returning in 2020, the 100% Chenin Blanc fruit was grown on rocky sandstone soils on the Piekenierskloof farm of Tierhoek. The grapes were dried for three weeks and then left for five days on its skins as whole bunches followed by foot treading. Only bottled in July 2021, the wine already shows a wonderfully pure fresh precision, a vibrant tangy acidity and fabulous drinkability. The aromatics are pure and bright with delicious layers of dried apricots drizzled in honey, mango chutney, melktart and custard filled pastries. The palate is creamy and plush, superbly balanced and elegant, neither overly sweet nor clawing with a fine creamy dried peach finesse, a mouth coating glycerol breadth and a long, pure finish with a kiss of granadilla liquor. Sweet wines of this calibre are not easy to produce making them true labours of love. If you get the opportunity to claim an allocation, grab it with both hands! Drink now to 2040+.' – Greg Sherwood MW, 96+/100