This is the 10th anniversary of the Alheit Cartology. First released from the 2011 vintage, it catapulted Alheit Vineyards into international wine stardom. Focusing on old-vine Chenin and Sémillon, Chris and Suzanne's wines are some of the most thrilling in SA. The Cartology white blend has gone a long way in defining our unique, South African terroir. The latest 2020 release is particularly accomplished.
From the Hemel-en-Aarde is the ever-exciting 2020 Hemelrand Vine Garden (95 CE) field blend. Now established, the vineyard is delivering on the Alheits' vision. These are joined by a new wine, the 2020 Hereafter Here (92 CE), from two younger Chenin Blanc vineyards – one in Polkadraai and the other in Blaauwklippen Valley, Stellenbosch. It exhibits Chris Alheit's trademark refinement.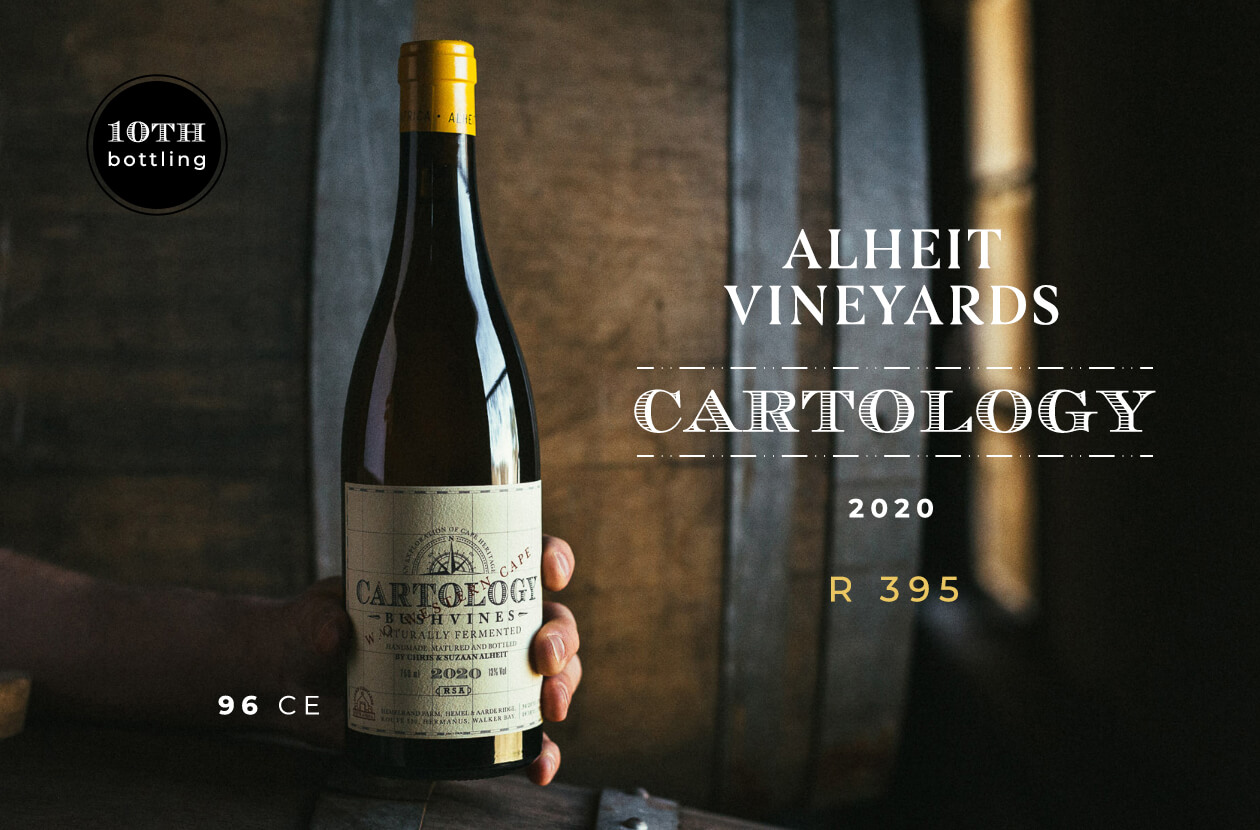 On allocation
2020 was a complex vintage. Some areas got too little rain while others received too much. The result is that there is no 2020 Huilkrans or 2020 Broom Ridge from this vintage and a significantly lower production of both the 2020 Magnetic North Mountain Makstok (96 CE) and 2020 Monument Sémillon 2020 (94 CE) – previously labelled La Colline. From Stellenbosch, the 2020 Nautical Dawn (97 CE) is a stellar release in this 2020 line-up.
Unfortunately, these are not available as they have sold out on allocation.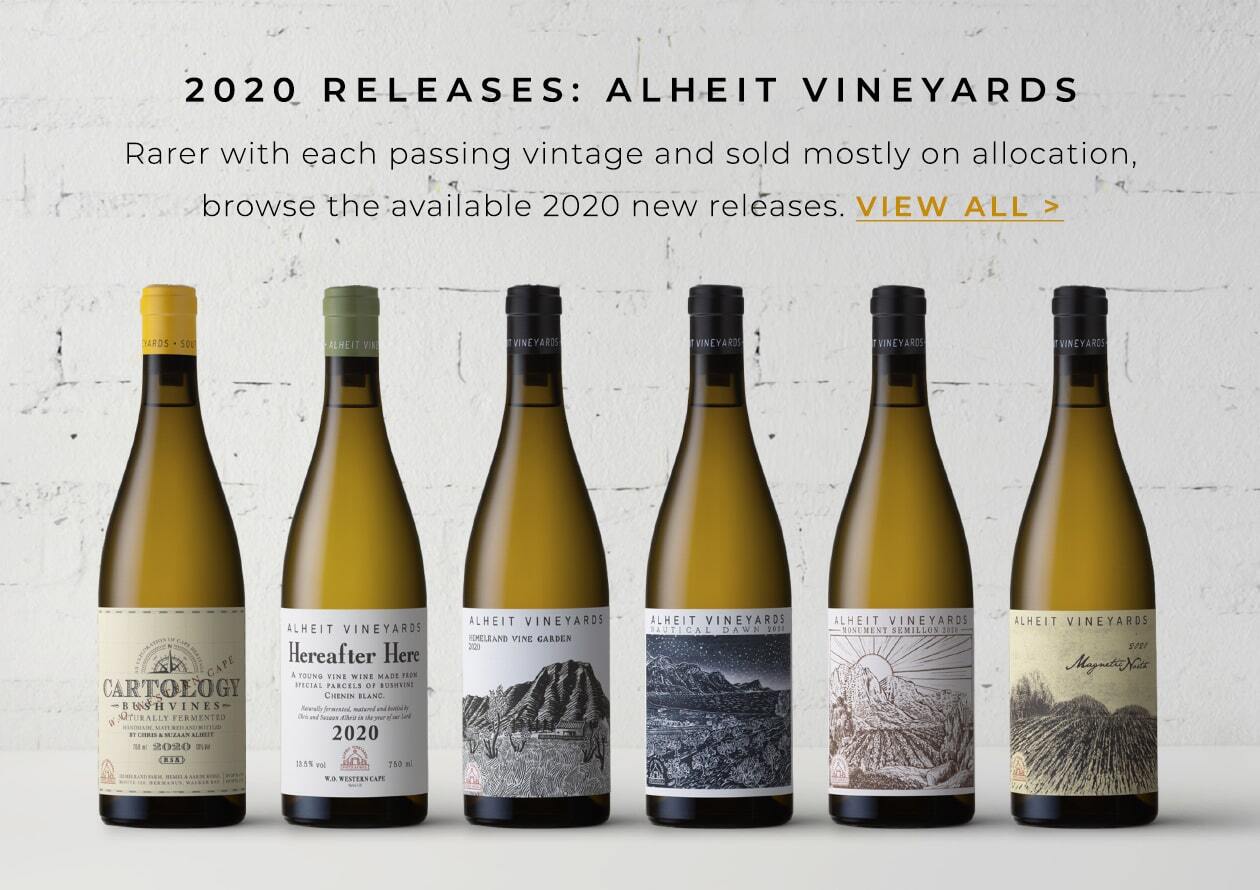 Tasting notes:
Alheit Vineyards, Cartology 2020
'93% Chenin Blanc and 7% Semillon, from unirrigated old-vine parcels situated across the Cape. Spontaneously fermented and matured in a variety of vessels including cement eggs, clay pots, foudres and old barrels of different sizes. Super-complex aromatics of pear, peach, lime, green apple, thatch, herbs, earth and some waxy character. The palate has excellent structure – great density of fruit matched by bright acidity. Marvellous intensity of flavour but also great drive, the finish long and savoury. An extraordinary achievement.' – Christian Eedes, Winemag, 96/100
Alheit Vineyards, Hemelrand Vine Garden 2020
'From a site planted to multiple varieties on Hemel en Aarde Ridge, this vintage consisting of 32% Chardonnay, 25% Roussanne, 25% Chenin Blanc, 13% Verdelho and 5% Muscat. Matured in old oak for 12 months before a further six months in tank. Exotic aromatics of citrus, peach, tropical fruit plus hints of flowers and herbs. The palate, meanwhile, is dense with tangy acidity and a gently savoury finish. A wine that becomes increasingly convincing as the vines mature.' – Christian Eedes, Winemag, 95/100
Alheit Vineyards, Hereafter Here 2020
'NEW – grapes from two young blocks in Stellenbosch, 70% on Polkadraai Hills and 30% in the Upper Blaauwklippen Valley. Spontaneously fermented and matured in old barrels. Pear, peach, lime and herbs plus undertones of wet wool and earthiness on the nose while the palate shows concentrated fruit, lively acidity and a pithy finish. It's very pleasing but perhaps inevitably doesn't have quite the same detail or mass as the wines from old vines in the range.' – Christian Eedes, Winemag, 92/100
Alheit Vineyards, Magnetic North Mountain Makstok 2020
'From two blocks on Citrusdal Mountain (aka Skurfberg), the one planted in 1981 and the other in 1984. Fermented and matured in a single 2000-litre foudre. Striking aromatics of buchu and other fynbos before pear, peach and grapefruit plus lanolin and earth. The palate is rich with an almost oily texture – great fruit density matched by a cracking line of acidity before a savoury finish. Nothing if not attention grabbing. Production: 2,706 bottles.' – Christian Eedes, Winemag, 96/100
Alheit Vineyards, Monument Sémillon 2020
'Previously La Colline – from a Franschhoek vineyard planted in 1936. Spontaneously fermented and matured for 18 months in old barrels. Pear, peach and yellow apple with overtones of thatch, herbs and a little white pepper on the nose while the palate is rich and broad – great depth of fruit to go with seemingly quite moderate acidity, the finish gently savoury.' – Christian Eedes, Winemag, 94/100
Alheit Vineyards, Nautical Dawn 2020
'From a 1978 Chenin Blanc block on granite in Firgrove, Stellenbosch. Spontaneously fermented and matured in two 2 000-litre foudres. Hay, pear, peach, a touch of earth and some wet wool on the nose. The palate shows precision and tension – pure fruit plays off against snappy acidity before a finish that is long and pithy. Wonderfully refined with a crystalline structure.' – Christian Eedes, Winemag, 97/100