The 2021 launch of the Mullineux Single Terroir wines was special. We tasted a vertical of both the Granite and Schist Syrahs for context – underlining the journey made in the vineyards and by the winemaking team as they have both matured. Since 2007, this powerhouse winemaking team has focused their Swartland efforts on Syrah and Chenin – the red and white varieties with the most 95+ scores in Tim Atkin's latest report. Produced in small quantities, these are only released when they meet Andrea and Chris's high standards.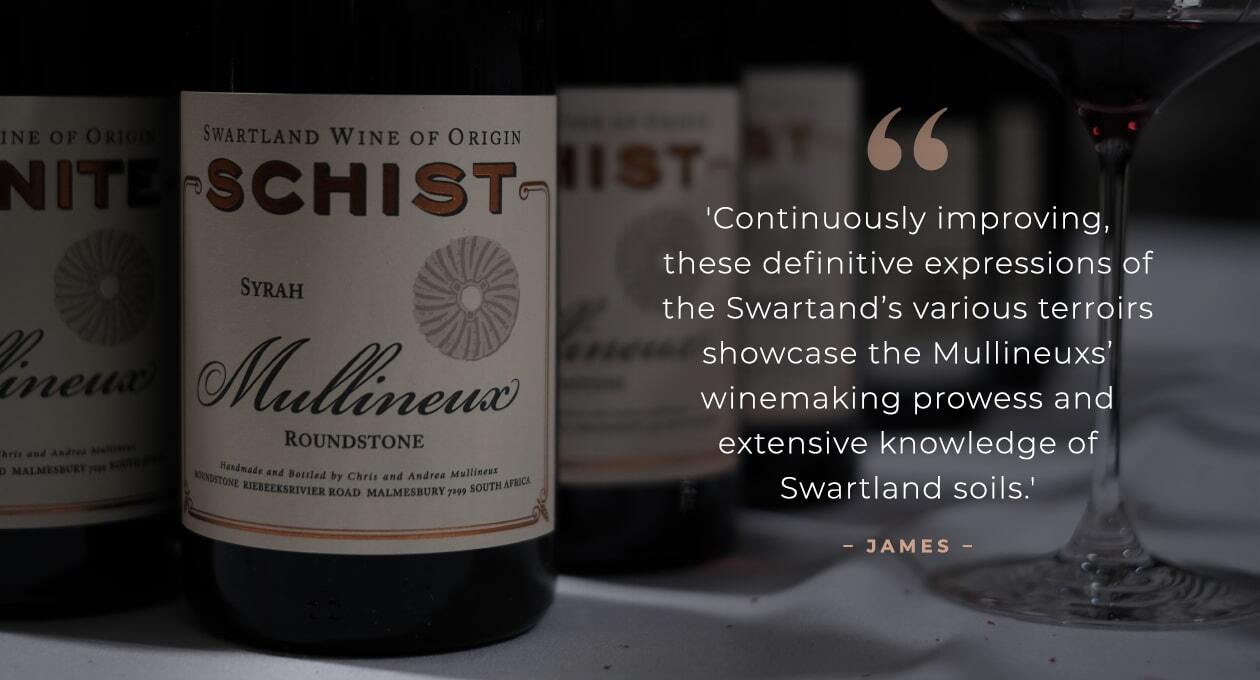 Once again, the 2019 Schist Roundstone Syrah is my favourite. One might say it's the 'Côte-Rôtie' in the stable. From their shale and schist Kasteelberg vineyard, it has backward fruit, floral perfume and is laced with hints of negroni and meat spice with a juicy and long finish. The 2019 Granite Syrah, from a sustainably-farmed, 20-plus-year-old parcel in the Paardeberg, is bright and vibrant. With savoury tapenade notes and a stony, mineral finish, it is the most linear of the three Syrahs. The 2019 Iron Syrah is from iron-rich, organically-farmed Malmesbury vineyards. While usually the most broad of the trio, the 2019 is fresher than previous vintages with lovely Northern Rhône brawn and black olive complexity. It is deeply saline with a vibrant send off.
2020 is a pure-fruited, expressive vintage. It sees the first release of the 2020 Iron Chenin Blanc – Tim Atkin's White Wine Discovery of the Year. Vibrant and shy, a hint of Burgundy-like reduction leads on to a citrus-etched palate – elegant and precise. The 2020 Granite Chenin Blanc is open with freshly cut pear, nectarine and quince. Pretty and juicy on the palate, it offers ripe, citrus verve. From a single vineyard, the 2020 Schist Roundstone Chenin Blanc is a little more backward this year. Like the others, it has citrus notes and good length and detail.
Deservedly, this is another world-class release as all 6 were rated 95 and above by Tim Atkin last week!
Tasting notes:
Mullineux, Schist Syrah Roundstone 2019
'From own vineyards on the Kasteelberg. 100% whole-bunch fermentation. Alluring aromatics of red and black berries, fynbos, black pepper and just a little flinty reduction. The palate is wonderfully pure and energetic – great fruit expression to go with snappy acidity and tannins that are firm but not astringent, the finish long and super-dry.' – Christian Eedes, Winemag, 97/100

'Roundstone's schist soils produce grapes with more colour and smaller berries, but the greater concentration doesn't show in the wines. Floral, svelte and peppery, this is the Mullineux' Côte Rôtie for me, with fine-boned tannins, rose petal and peony aromas, lots of whole bunch clove spice and texture and a meaty undertone. Drink 2022-29.' – Tim Atkin MW, SA Special Report 2021, 95/100
Mullineux, Granite Syrah 2019
'We wine geeks love to discuss the relative merits of the three soil-specific Syrahs from the Mullineux. This is (just) my pick of the trio in 2019, sourced from a two-hectare block on the Jakalsfontein farm. Ginger and violet aromas segue into a palate of remarkable grip and persistence, with energetic acidity and a savoury, satisfying finish. Drink 2022-29.' – Tim Atkin MW, SA Special Report 2021, 97/100

'From a vineyard planted in the late 1980s on the Paardeberg. 100% whole-bunch fermentation. Archetypal aromatics of red berries, fynbos, cured meat and white pepper while the palate is medium bodied and wonderfully balanced – good fruit definition, moderate acidity and fine tannins.' – Christian Eedes, Winemag, 95/100
Mullineux, Iron Syrah 2019
'Iron comes from the Malmesbury side of the Swartland and is the broadest, richest and most structured of the three Mullineux soil Syrahs, with lots of extract and concentration, bloody, meaty intensity, top notes of whole bunch spices and a hint of stony reduction. Drink 2023-27.' – Tim Atkin MW, SA Special Report 2021, 96/100

'From vineyards outside Malmesbury. Red and black berries, intense spice and some earthiness. The palate is full-bodied, richly flavoured and smooth textured. It sits quite broad in the mouth, the tannins providing a powdery sensation. As ever, the most opulent of the three.' – Christian Eedes, Winemag, 94/100
Mullineux, Iron Chenin Blanc 2020
'Any new wine from Chris and Andrea Mullineux is worth seeking out, but that's especially true of this dense, ferrous, concentrated Chenin from red koffeeklip soils to the west of Malmesbury. Smoky, flinty, struck match aromas segue into a layered peach and waxed lemon palate with just a hint of oak. Drink 2022-27.' – Tim Atkin MW, SA Special Report 2021, 96/100

'Maiden release, grapes from vineyards outside Malmesbury. Some gun smoke-like reduction before citrus, white peach and herbs on the nose. The palate is rich and round – dense fruit offset by tangy acidity, the finish again nicely savoury. The most forceful wine of the trio.' – Christian Eedes, Winemag, 94/100
Mullineux, Granite Chenin Blanc 2020
'Granite comes from a parcel of west-facing 38-year-old vines on the Paardeberg and shows a little bit of ocean influence. Taut, balanced and very stony indeed, with noticeable grip and tannic structure, a salty undertone and chiselled lime and lemon juice flavours. Drink 2022-27.' – Tim Atkin MW, SA Special Report 2021, 96/100

'Grapes from a 1976 vineyard on the Paardeberg. Pear, peach, citrus and fynbos plus a hint of reduction on the nose. The palate is lean in structure but deep in flavour – well delineated fruit to go with a great line of acidity and a saline finish. Precise and harmonious.' – Christian Eedes, Winemag, 96/100
Mullineux, Schist Roundstone Chenin Blanc 2020
'Last made back in 2014, Schist is produced with grapes from the Roundstone property. Elegant, crisp and perfumed with jasmine and aniseed aromas, some mid-palate cream and texture, sappy minerality and the faintest whisper of oak spices. Drink 2022-27.' – Tim Atkin MW, SA Special Report 2021, 95/100

'From own vineyards on the Kasteelberg – first vintage since 2014. The nose shows lemon and naartjie plus some leesy complexity. The palate is rich but balanced with impressive depth of flavour and nicely integrated acidity. There's a initially a certain breadth and thickness of texture to this wine, although the finish is long and savoury.' – Christian Eedes, Winemag, 95/100