Established in 1787, Moulin Touchais may have the largest, most impressive back-vintage offering on earth. Their 15km-long, underground cellars house roughly 2 million bottles of long-ageing, late harvest Chenin Blanc – with some wines dating back to the 1850s.
The grapes are picked at various stages for concentration and freshness, and then the wines are aged for at least 10 years before release. This happened because Joseph Touchais walled up his cellar to protect his most valuable wines during the WWII occupation and, afterwards, discovered that the wines were improving with age.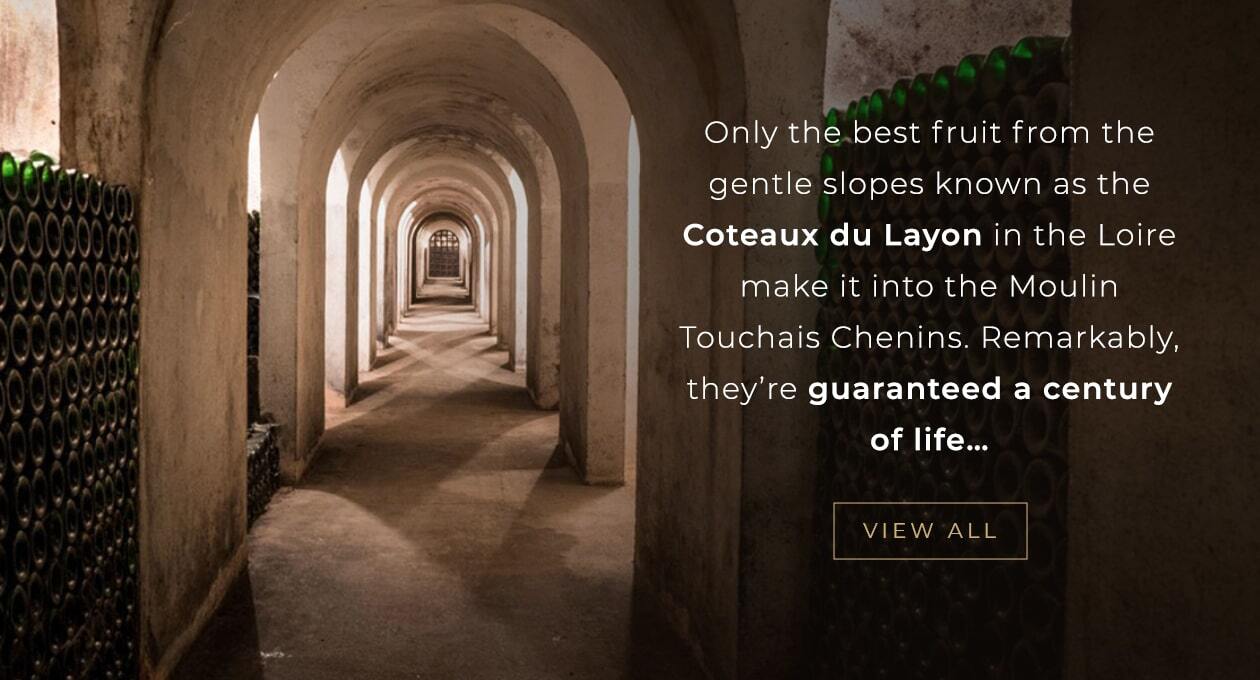 The wines are pure and fresh, whilst the sugar levels are only around 80g/l. As they mature, they tend to taste drier as the high acidity balances the richness and sweetness perfectly. Although present in the benchmark 1997, there is generally no botrytis. With age, the wines show more tertiary complexity and depth – nuttiness, saffron and cognac-like spiciness. They would pair very well with a tarte Tatin or aged hard cheeses.
Starting with 2005 and going back to 1968, we're delighted to offer 5 wines spanning half a century! These are vintage guidelines from Richard Kelley MW – the world authority on the Loire and its wines:
The best wines: 2005, 2003, 2002, 1997, 1996, 1985, 1984, 1975 and 1971
Where the smart money is: 2005, 2003, 2002, 1996, 1984, 1975 and 1971
For pouring now: 1999, 1996, 1985, 1983, 1979 and 1968
For the cellar: 2007, 2005, 2003, 2002, 1997, 1996, 1975 and 1971
Tasting notes:
Moulin Touchais, Coteaux du Layon 1968
'Brûléed, rich oxidative nose similar to Adrian again but perhaps in a more Bual or Terrantez style. Vibrant salty acids, lovely briney focus and rich, pithy length brimming with cognac spice, sweet orange peel, marmalade and nutty cheese cloth complexity.' – Greg Sherwood MW, 93+/100

'The people at Moulin Touchais call 1968 a 'petit millésime' i.e. it was cool and wet so not particularly conducive to quality. The vintage was first released in 2018, 50 years after its maker, Joseph Touchais, decided to bottle a small amount for the hell of it in some pre-loved bottles – it's now a lottery what bottle you receive your 1968 cuvée – there were five different styles used!!! It's an amber-hued wine that has now taken on the oxidative nose of an Amontillado; the 1970 looks far fresher. That said, if you like Amontillado aromas (which I do) then you'll find the nose of this 1968 rather attractive with its olive, dried apricot and briney characters, toffee and walnut. There's plenty of welcoming sweetness (60g/L) here and the cool season has imbued it with freshness on the almost malty finish. Intriguing, appetizing although you do have to like oxidative characters. Long, long length. Drink 2021-2028.' – Rebecca Gibb MW, Vinous, 92/100 (Apr 2021)
Moulin Touchais, Coteaux du Layon 1985
'Sweet honied peach and citrus notes, caramelised orange peel and honey. Palate is vibrant and fresh, quite tart and pure with green apple purée, quince and grapefruit confit. Lovely length and finesse and a slightly tighter finish.' – Greg Sherwood MW, 95/100

'Hailing from a warm vintage that was one of the best in what would otherwise have been a fairly ordinary decade, the 1985 Moulin Touchais Coteaux du Layon is starting to take on a deep golden appearance, commencing to amber. It offers a gorgeous, suave texture and a very complex nose that's a touch oxidative but that adds a layer of additional intrigue: it's all nuts, raisins, walnuts, olives, warm pastry, cinnamon, cooked orange peel. It's round and sweet (95g/L) but not unctuous with richness on the mid-palate while retaining enough acidity to refresh the mouth on the long finish. A wine that is very comfortable in its own skin, providing a very relaxing experience. Drink 2021-2035.' – Rebecca Gibb MW, Vinous, 94/100 (Apr 2021)
Moulin Touchais, Coteaux du Layon 1997
'Sweet rich opulent nose of brûléed lemons, citrus confit and 60/70% botrytis honied complexity. Rich and powerful, dense, sweet and textured with dried peaches drizzled in honey. Delicious and opulent with a long finish.' – Greg Sherwood MW, 96/100

'Shows the power and depth of this great vintage, with a core of still-youthful mango, guava and creamed peach flavors streaming along, backed by light heather, honeysuckle and quince notes. The long finish is creamy and pure, displaying a lovely lining of brioche and lemon curd. Drink now through 2037.' – James Molesworth, Wine Spectator, 95/100
Moulin Touchais, Coteaux du Layon 2003
'Ripe exotic aromatics with yellow orchard fruits, chalk and lemon confit. Plush, broad and fleshy texture, opulent, quite showy, unctuous and mouth coatingly sweet made in a more 'obvious style' with softer acids. Retains lovely purity of fruit.' – Greg Sherwood MW, 93/100
Moulin Touchais, Coteaux du Layon 2005
'Ripe and unctuous in feel, featuring creamed peach, mango and guava notes gliding throughout. Stays bright and defined thanks to well-inlaid chamomile and salted butter accents. There's a flattering feel through the finish, with a light marzipan hint starting to creep in. This is just beginning to open up and should cruise for quite some time. Drink now through 2040.' – James Molesworth, Wine Spectator, 94/100

'Smoky, spicy, burnished gold nose and the richness of a big botrytis vintage for the region – 50-60%. Honeyed cedary complexity. Tastes very very young and needs at least another 10 years though it is delicious now – pure but spicy and really intense. Terrific freshness of honeyed quince on the finish.' – Julia Harding MW, JancisRobinson.com, 17.5/20