This is the third release from the Damascene stable and, wow, have they set some serious benchmarks. In partnership with David Curl, the owner of Moya Meaker in Elgin, Jean Smit has created a project with a simple aim: to make the best regional expressions from the distinct terroirs across SA. Farming more than 40 vineyards, they only made wines from the best 19 sites in this latest release. They have produced a set of wines that includes some of SA's most attuned, elegant examples of Cabernet Franc, Cabernet Sauvignon, Chenin Blanc, Sémillon and Syrah!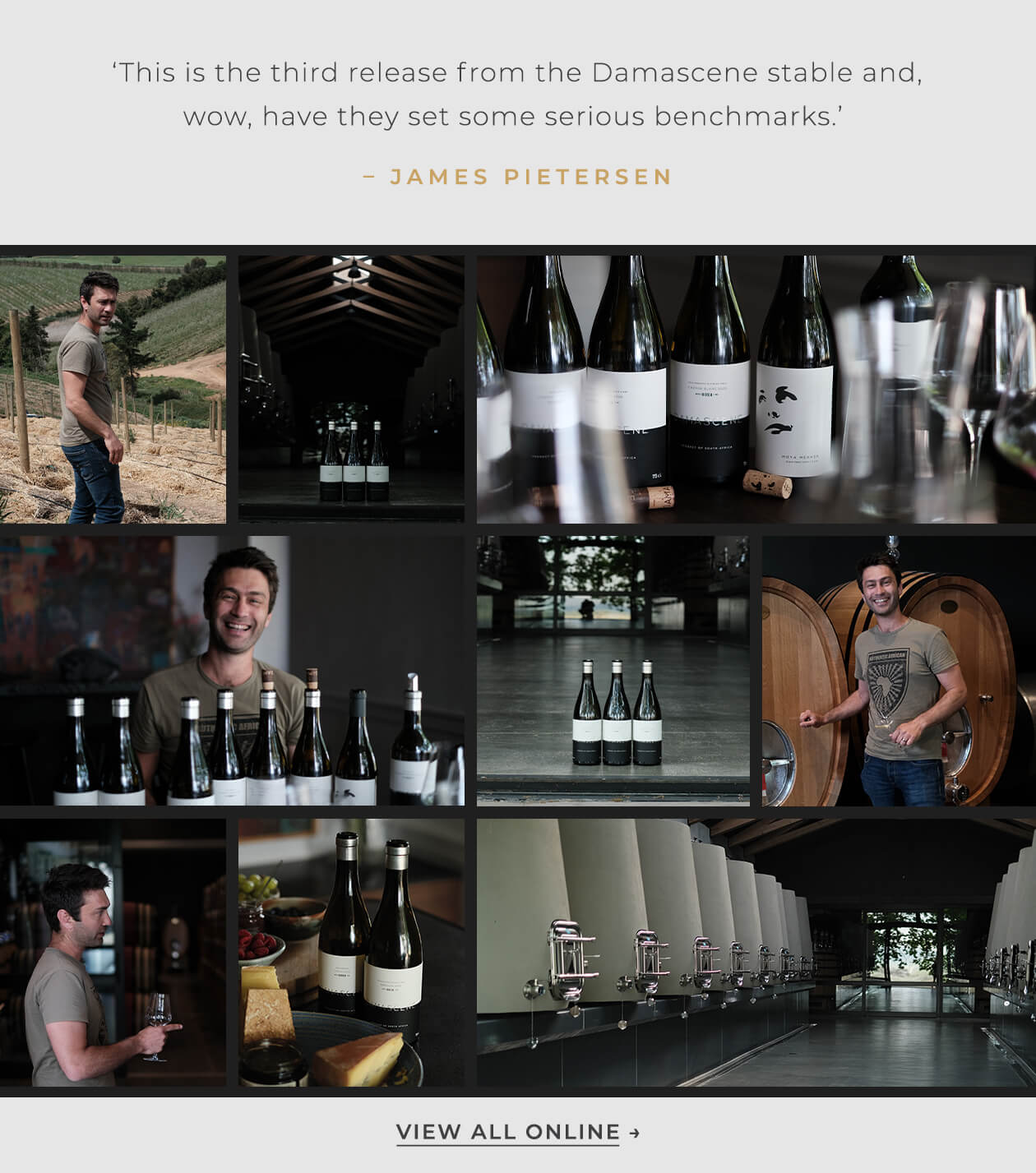 This is the most impressive set of regional Syrahs that we've tasted. The W.O. Stellenbosch Syrah 2020 is perfumed with both floral and meat-spice complexity. It's a favourite every vintage. The latest addition, the W.O. Swartland Syrah 2020, is from iron, blue schist and shale soils and captures the essence of the Swartland with incredible, savoury fruit weight. The W.O. Cederberg Syrah 2020, from high-altitude vines, is raised in a combination of concrete and 1,000L foudre to preserve and celebrate the vibrant, deep blue fruit delivered by these small, concentrated berries. These are incredible wines – Stellenbosch for elegance, Swartland for savoury gravitas and Cederberg for fruit depth – all created equal.
The W.O. Stellenbosch Cabernet Franc 2020, from a Bottelary vineyard on poor, granitic soils, is a refined and polished bottling. It walks a fine line between Loire-like sensibility and Stellenbosch fruit weight. Again, it expresses exquisite, silky tannins. The W.O. Stellenbosch Cabernet Sauvignon 2019, from three different vineyards, is a modern classic and follows on from the maiden release with exemplary, poised ripeness.
Jean has a particular love for Sémillon and has made a small batch from two vineyards planted in 1942 and 1962. The W.O. Franschhoek Sémillon 2020 is the very definition of old-vine Franschhoek Sémillon and is visceral with fantastic length. (Available on allocation only.) The final new addition is the W.O. Stellenbosch Chenin Blanc 2020. Also produced in very small quantities, it comes from a combination of shale and granitic soils. The 5% skin contact adds a pleasant, grippy balance to the end.
Finally, the Moya Meaker Elgin Pinot Noir 2020 is easily the best Rand-for-Rand bottle of Pinot Noir available in SA today. As simple as that! It is a serious step up from last year's and, upon tasting it, we were super impressed with its clarity and depth of fruit.
Tasting notes:
Damascene, W.O. Stellenbosch Syrah 2020
'Grapes from Bottelary, Devon Valley and Polkadraai Hills. Whole-bunch fermentation ranging from 50 – 100% depending on the batch. The nose is very expressive with notes of red and blackberries, orange peel, some floral perfume, fynbos, charcuterie and white pepper. The palate has a dense core of fruit, bright acidity and powdery tannins before a finish that's long and dry. Mouth-filling and chewy, this will have a lot of fans.' – Christian Eedes, Winemag, 96/100
Damascene, W.O. Swartland Syrah 2020
'Grapes from three disparate Swartland vineyards. Between 50 and 75% of the fruit was fermented as whole clusters, depending on the parcel. Haunting aromatics with just the right amount of smoky reduction preceding red and blackberries, fynbos and pepper. The palate is exceptionally intense with great purity and drive – excellent fruit definition, a striking line of acidity and tannins that are firm in the best sense. Beautifully realized.' – Christian Eedes, Winemag, 98/100
Damascene, W.O. Cederberg Syrah 2020
'30 – 60% whole-bunch fermentation, depending on the parcel. Matured in foudre for 11 months. Black and blueberries, lavender and black pepper on the nose while the palate is rich, full and smooth textured – massive fruit concentration, bright acidity and fine tannins. This has a plushness about it without being overdone.' – Christian Eedes, Winemag, 95/100
Damascene, W.O. Stellenbosch Cabernet Franc 2020
'Grapes from a Bottelary vineyard planted in 2004. Matured for 11 months in 1000-litre foudre. Appealing aromatics of red and black berries plus subtle notes of dried herbs, potpourri and violets. The palate is super-elegant – delicate and yet vivid. Pure fruit, snappy acidity and fine tannins gives this a real lip-smacking quality.' – Christian Eedes, Winemag, 92/100
Damascene, W.O. Stellenbosch Cabernet Sauvignon 2019
'Grapes sourced from Bottelary, Vlottenburg and Helderberg. Matured for 12 months in French oak, 80% new before a further 12 months in foudre. Heady aromatics of red and blackberries, old rose, tobacco, turned earth, vanilla and pencil shavings. The palate possesses extraordinary fruit depth and a creamy texture but equally there's no shortage of freshness and the finish is gently savoury. Power packed (alcohol is 14.62%) but also complex and balanced.' – Christian Eedes, Winemag, 96/100
Damascene, W.O. Franschhoek Sémillon 2020
'From two Franschhoek vineyards, one planted in 1942 and the other in 1962. Matured in older oak for 11 months. Citrus and peach to the fore on the nose but also hints of blackcurrant, hay and wax. The palate is superbly refined and harmonious – great fruit definition and soft but sufficient acidity before a gently saline finish. So very multi-faceted.' – Christian Eedes, Winemag, 96/100
Damascene, W.O. Stellenbosch Chenin Blanc 2020
'Grapes from three sites in Bottelary ranging in age from 1972 to 1982. 5% fermented on the skins for one week. Matured in older oak for 11 months. The nose is somewhat shy – hints of citrus blossom, white peach, earth and almond while the palate is medium-bodied and comes across somewhat neutral in flavour – acidity is moderate and the texture slightly grippy. It's nevertheless intriguing perhaps precisely because it's so reticent.' – Christian Eedes, Winemag, 92/100
Moya Meaker, Elgin Pinot Noir 2020
'Grapes from Curl's own Elgin property, 3.12ha densely planted to clones 667 and 777. Matured for eight months in 300-lite barrels, 25% new. Black cherry, rose, herbs, earth and a hint of spice on the nose while the palate displays impressive density of fruit, bright acidity and firm but fine tannins, the finish long and dry. This has great structure, being full but not imposing, and you have to admire how balanced and proportionate it is. A return to form after the slightly awkward 2019.' – Christian Eedes, Winemag, 94/100