Among many other accolades – including Gold at the Amorim Cap Classique Challenge and Double Gold at the SA Sparkling Wine Championships – the 2017 Paul René Brut Chardonnay was named 'Best Sparkling Wine' in the 2021 Old Mutual Trophy Wine Show. This Blanc de Blancs from Robertson – SA's premier Méthode Cap Classique region – immediately impressed me with its lovely complexity and layers of autolytic character.
Summer is the time for bubbles and the depth of flavour offered by the 2017 Brut spans the fine line between complexity and having well-developed flavour, freshness and a dry, coated finish. For a serious Cap Classique that showcases such craftsmanship, it offers unbeatable value!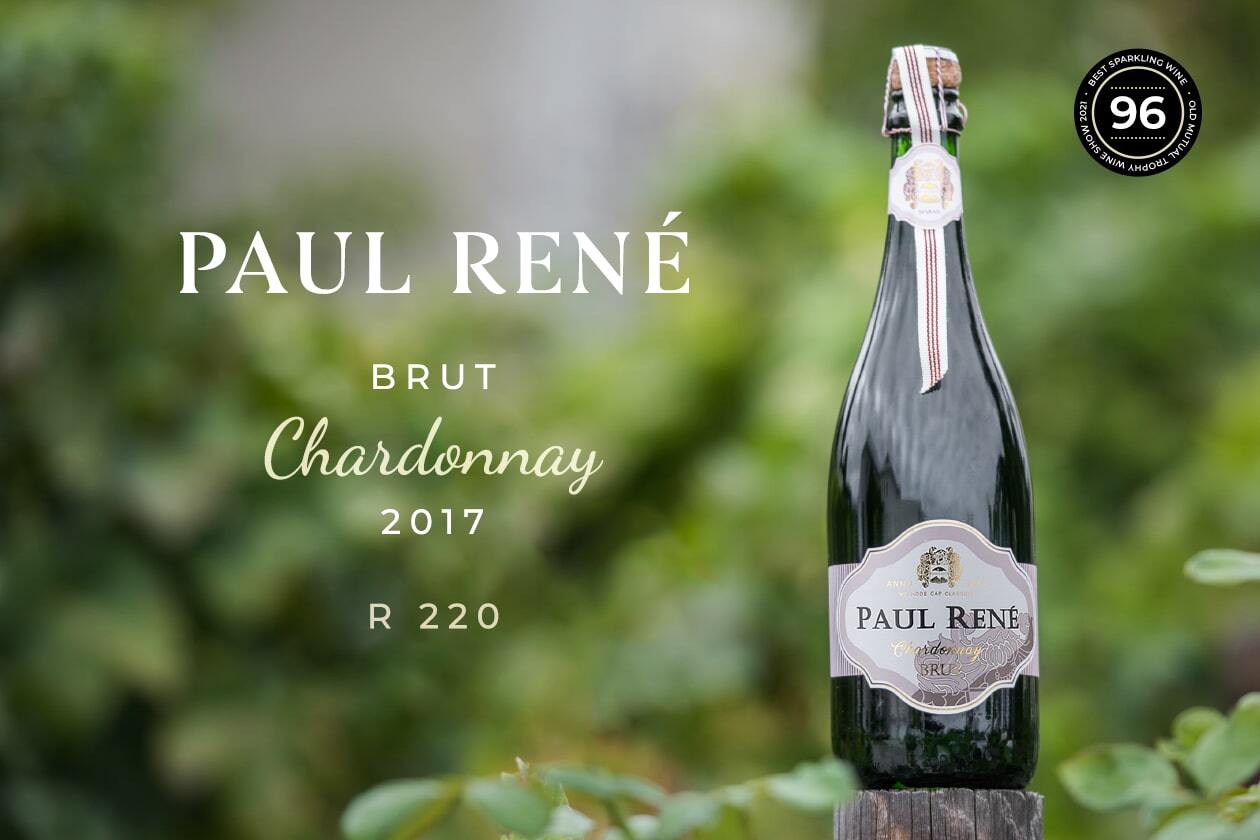 I first came across Henk and Monika van Niekerk's wines as a sommelier, more than a decade ago, and have always been captivated by their enthusiasm and dedication to making something special. Made from 100% Chardonnay, the grapes are whole-bunch pressed with a low recovery rate (420ℓ per ton) to ensure purity and finesse. After secondary fermentation, it spends 36 months on the lees for added complexity.
During the coming festive season, this bubbly will be great in many guises and, while absolutely delicious now, it will drink well over the next 3 years.
Tasting notes:
Paul René, Brut Chardonnay 2017
Sowetan Trophy (Gold) for Best Sparkling Wine – Old Mutual Trophy Wine Show 2021, 96/100
'The nose is fresh and clean with complex, 'bread-y' notes, nougat, mandarin and citrus spritz, following on to a medium-weight palate with a good flavour profile of lightly roasted nuts, some nougat again, dried citrus and dried pineapple fruit concentration. The acidity is on-point and the finish is flavour-packed and dry.' – James Pietersen (Nov 2021)
'The result is a bubbly that is pithy and bright with nice intensity to the pear and peach fruit. It has a crystalline citrus quality too, with lemon curd and orange notes. The bright limestone acidity holds this svelte wine taut and fresh with some bready notes on the finish.' – Henk van Niekerk, Paul René