The 2022 scores in SA's bestselling wine guide have just been released on Platter's digital platforms. While most of the 5-star wines sell out on release, we do have some gems still available. View the full list of available 5-star wines.
As in previous editions, Red and White Blends are the top-performing classes and we have limited parcels of the 5-star wines from Anysbos, David & Nadia, Sijnn, Rall, Taaibosch, Tokara, Sadie Family Wines and more. Chenin Blanc, which has made a remarkable leap in terms of quality in recent years, was the third most successful category. Our list includes the last of the stock from AA Badenhorst, Alheit Vineyards, Swerwer, Mullineux, Raats and Thistle & Weed.
Chardonnay and Cabernet Sauvignon, with a strong focus on Stellenbosch Cabernet, were also well-represented in the 2022 edition. Browse our list for wines from Kanonkop, Le Riche, Leeu Passant, Restless River, Vergelegen and more, including one of the 'best value' picks from Plaisir de Merle.
'These are exciting times for South African wine regarding quality and diversity,' comments Philip van Zyl, the editor of Platter's. This year, 5-star accolades were awarded to 234 wines across 28 different categories, so check out our list for the likes of Klein Constantia, Momento, Radford Dale, Reyneke, Savage and Storm – which all represent the incredible diversity of SA's fine wine offering.
Congratulations to all the producers and their teams on this incredible achievement. We are especially proud of Jolette, our resident winemaker, who cracked 5 stars on her maiden-release The Vineyard Party Sémillon.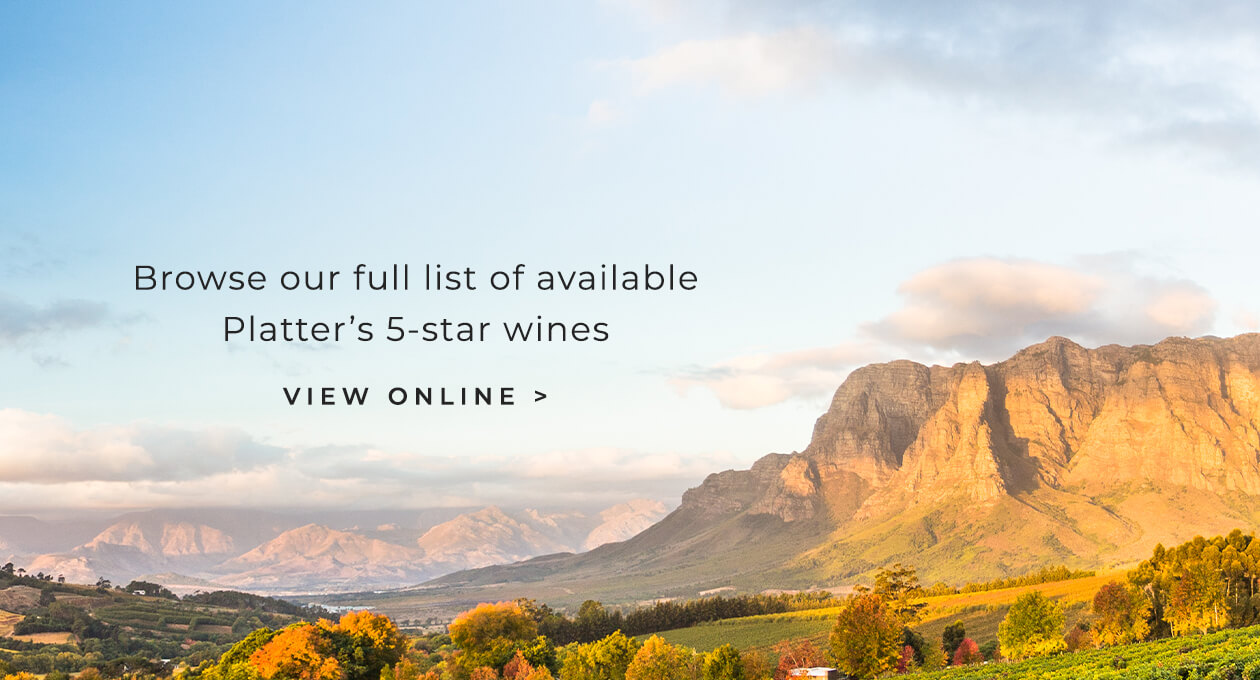 The 2022 guide results are available now on Platter's digital platforms – the apps for iOS/Apple and Android, and the website (www.wineonaplatter.com). The bestselling and collectible hardcover version of the new edition will be released on Friday, 19 November.