Restless River is one of the rising stars on the South African fine wine scene. Craig and Anne Wessels have quietly gained a cult following for their brilliant, Burgundian-style Chardonnay and elegant Cabernet Sauvignon. With every new release, their single-vineyard Hemel-en-Aarde wines impress us more.
The 2019 Ava Marie Chardonnay is exceptional, offering the Chassagne-like minerality and chiselled structure that have become its trademark. Like always, the oak is beautifully managed, and the finish is persistent and detailed. It has just earned another 5-star award in the 2022 Platter's Guide.
We believe that the 2018 Main Road & Dignity Cabernet Sauvignon to be the most exciting Cabernet outside of Stellenbosch. With more texture and fruit weight than the previous vintages, the 2018 has the same poised, leafy-style DNA as the excellent 2017 vintage. The impressively fine, silky tannins knit a fine line between brooding, ripe fruit and herbaceous freshness, all set against the backdrop of its serious structure. This is set to age beautifully over the next decade.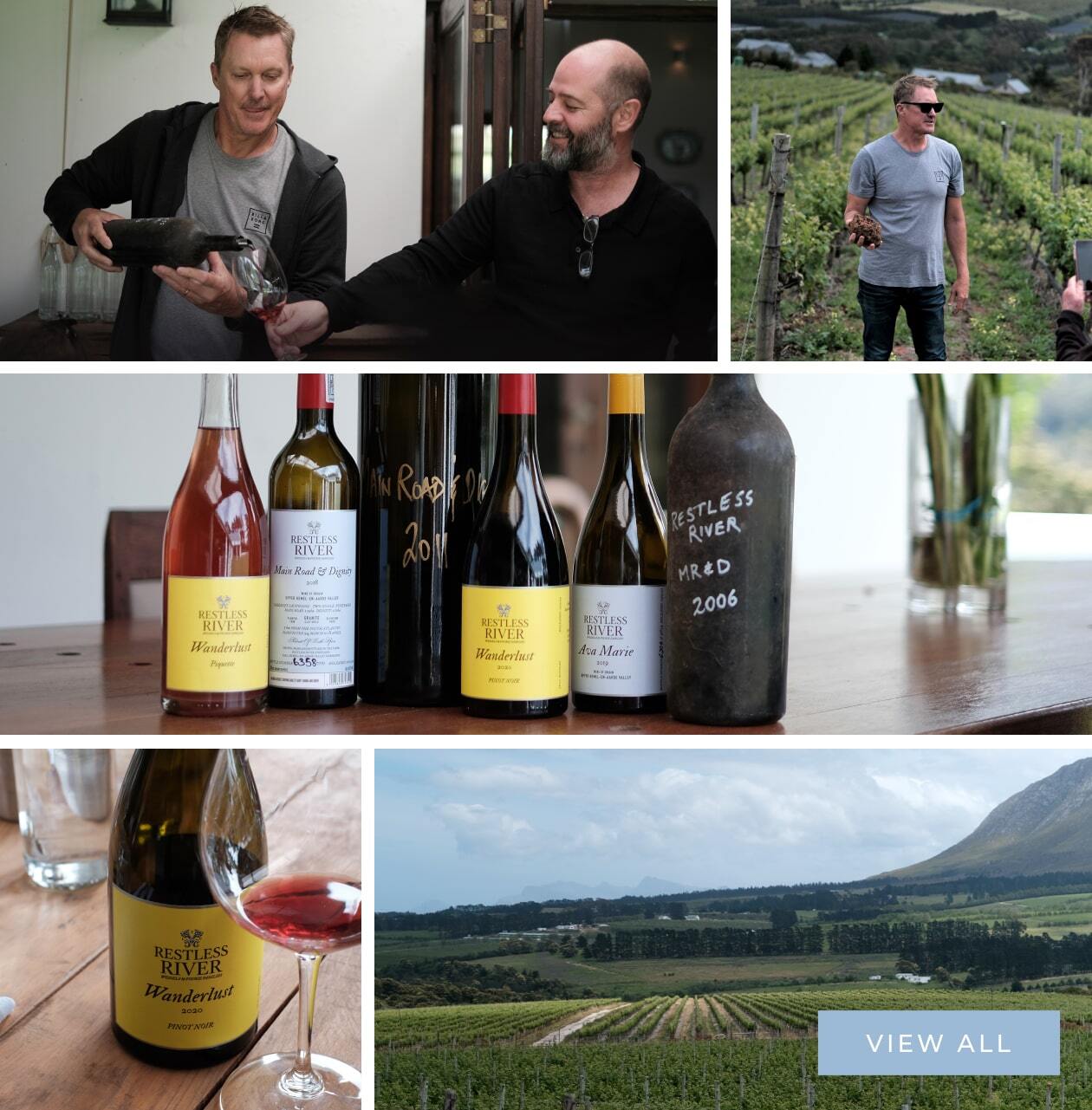 The 2020 Wanderlust Pinot Noir sits within the realm of the experimental. A unique wine from two different Pinot vineyards, it is wonderfully light and ethereal in character. The tannins are elegant and refined, making this a delicious wine to enjoy over the next 2 – 6 years. The Wanderlust label offers Craig the opportunity to explore different varieties and techniques as small-batch, one-off productions.
Tasting notes:
Restless River, Ava Marie Chardonnay 2019
'A challenging vintage that compelled Wessels to undertake nine passes through his 2ha vineyard as opposed to the usual five to seven. This attention to detail has paid off as this is the best vintage of Ava Marie yet. On the nose, a hint of flinty reduction before citrus, almond and leesy complexity while the palate shows great fruit concentration without being too weighty or thick-textured. The fruit is pure but there is already remarkable detail, the wine possessing a silky feel in the mouth, the finish super-dry. Matured for 11 months in mainly 500-litre barrels, some 10% new. Alcohol: 13%.' – Christian Eedes, Winemag, 97/100
'Drought-breaking 2019 vintage conferred rare combo of very low pH & not-too-high acidity, giving delicacy & effortless texture, pleasing hint of salt. Single-vineyard fruit, naturally fermented/year in oak, 5% new, plus 10% amphora component deliver riveting tension, lime & spice complexity, flinty, limy persistence. Magnificent.' – Platter's Guide, 5* (96/100)
Restless River, Main Road & Dignity Cabernet Sauvignon 2018
'Very much sui generis, this impressive Cabernet Sauvignon is a great wine to put into a blind tasting. Made with fruit from two single vineyards, it's youthful, stony, grippy and compact with considerable depth and intensity, fresh acidity, fine 20% new oak and inky damson and blackcurrant fruit. Drink 2024-30.' – Tim Atkin MW, SA Special Report 2021, 94/100
'Extraordinary maritime cabernet from 2 blocks. Always a keeper, more so super-structured 2018 due to drought giving small, thick-skinned berries with little juice. Beautifully proportioned (as noted for 2017 (5 stars, 95 pts)), with considerable fruit charms, bone-dry finish. Oak, 25% new, adds cedar scent & final polish. Needs & deserves extended maturation. 14.5% alcohol.' – Platter's Guide, 4.5* (94/100)
Restless River, Wanderlust Pinot Noir 2020
'The wine under the 'Wanderlust' label is different every year, allowing Wessels to undertake some experimentation with a view to improving his established bottlings. In 2020, he undertook to make a Pinot Noir as the Cistercian monks might have in the Middle Ages, that is with no mechanical intervention – no destemming, crushed underfoot, punch-downs rather than pump-overs, juice separated from skins by basket press. Grapes are from his own vineyards (no Le Luc due to a very small crop) plus Hemel-en-Aarde Ridge property Mount Babylon. The nose shows red currant, cherry, musk, tea leaf and a hint of mushroom. The palate is light-bodied with good fruit definition, fresh acidity and fine tannins. Lovely presence and very flavourful given an alcohol of just 12.8%.' – Christian Eedes, Winemag, 93/100