There is an exciting new addition to the Sons of Sugarland label from the Ron Burgundy crew – Fritz Schoon, Henk Kotze and winemaker Reenen Borman. Like the Syrah under the same name, the Sons of Sugarland Barbera 2021 showcases their minimalist approach – allowing the site and variety to tell the story – but produced with Reenen's refined aesthetic and vision.
While still uber youthful, the 2021 Barbera offers plenty of fruit purity with some attractive, savoury top notes, leading to a clean palate with a bright and playful acidity. This is a wine that celebrates transparency above technique. Light, juicy and crunchy, it is the perfect red for summertime and best enjoyed slightly chilled.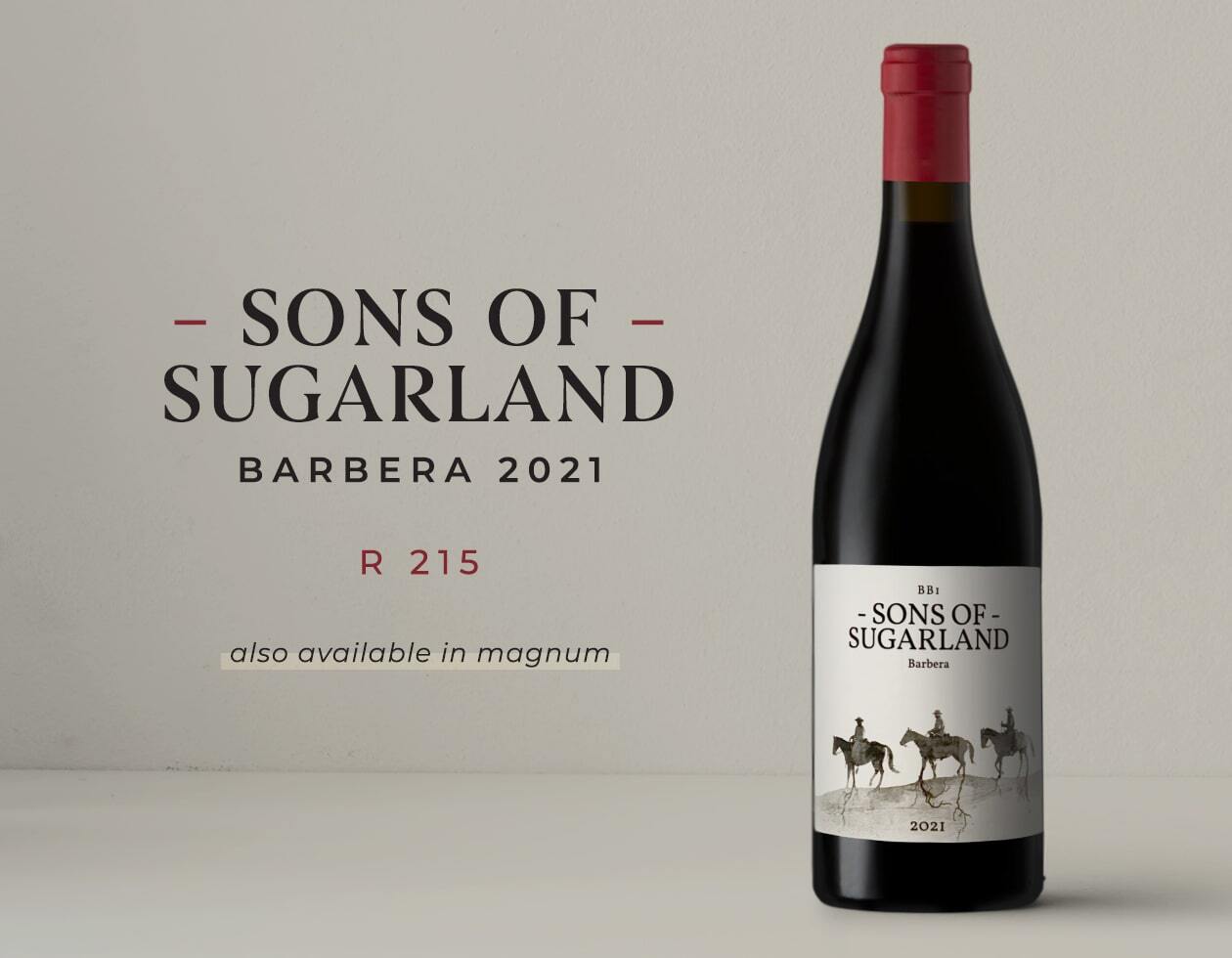 There are only about 50 hectares of Barbera planted in SA and, therefore, very few varietal bottlings are made. Barbera is mostly found in Piedmont, Italy, where it is often produced for earlier enjoyment in a fresh and fruity style and is best known for its bright acidity. Produced from fruit grown in Breedekloof (BB1 clone), Reenen only made 4 barrels of this 2021 Barbera. The wine was 100% whole-bunch fermented and then raised in neutral oak to retain its natural, fresh fruit and the tangy, lively acidity.
Tasting notes:
Sons of Sugarland, Barbera 2021
'Produced from the BB1 clone planted in Breedekloof, the 2021 Barbera is a new and exciting addition to the Ron Burgundy range. A partnership between Fritz Schoon, Henk Kotze and winemaker Reenen Borman, this wine showcases their minimalist approach and celebrates transparency above technique. Still uber youthful, the 2021 has plenty of fruit purity, some attractive, savoury top notes and clean palate with a bright and playful acidity. Light, juicy and crunchy, it is the perfect red for summertime and best enjoyed slightly chilled.' – James Pietersen (Nov 2021)