Chablis is one of Neal Martin's favourite regions to visit and the wines are some of Wine Cellar's favourites to drink. This region produces some of the purest Chardonnay in the world. The harsh, marginal climate results in wines of great freshness and minerality. While they are the perfect aperitif for the summer holidays, they also age exceptionally well – some Grand Crus last for several decades.
'If you like the steelier, more austere style, go for Burgfest multiple 'gold medalists' Jean-Paul & Benoît Droin,' writes Neal Martin in his 2020 Chablis report. That is exactly what we did!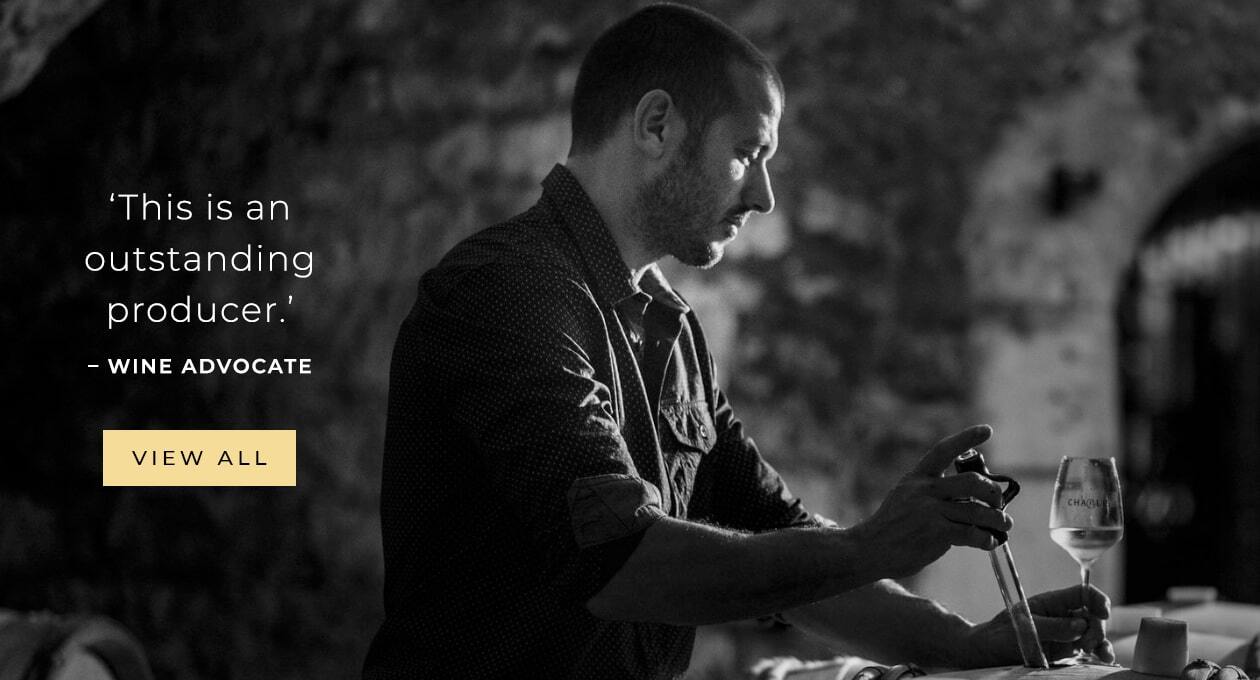 The Droins have been tending vines and making wines in Chablis for more than 400 years. Benoît Droin is a 14th generation vigneron and one of the most dynamic winemakers and consistent growers in the region. The 2020s have 'enormous potential' as per Vinous and Benoit himself. Their 2020 Chablis is characterful and classically styled, salty and focused.
It is not easy to compare 2020 to any other vintage in Chablis. It shows similarities to the classic vintages of 2014 and 2017. Neal Martin wrote that their 2020 Valmur Grand Cru might surpass anything produced in the past couple of years and loved the brightness of the 2020 Vaudésir Grand Cru vineyard, calling it 'exceptional'.
Tasting notes:
Jean-Paul & Benoît Droin, Chablis 2020
'The 2020 Chablis Village has quite a striking, fennel-tinged nose, vibrant and perfumed and full of personality. The taut, fresh palate delivers a fine bead of acidity, although I suspect that the 2019 might possess a little more harmony on the finish. Drink 2023-2028.' – Neal Martin, Vinous, 87/100 (Oct 2021)
Jean-Paul & Benoît Droin, Chablis Grand Cru Valmur 2020
'The 2020 Chablis Valmur Grand Cru is much more expressive on the nose compared to the Vaudésir, featuring copious yellow plum, yellow flower and mineral scents. The palate is very saline on the entry, matched with a perfect bead of acidity, and fans out wonderfully on the finish. This is going to be an outstanding Valmur. Drink 2025-2050.' – Neal Martin, Vinous, 94-96/100 (Oct 2021)
Jean-Paul & Benoît Droin, Chablis Grand Cru Vaudésir 2020
'The 2020 Chablis Vaudésir Grand Cru has an almost clinical bouquet, wonderfully defined, with superb salinity and mineralité. The focused palate is citric and tensile, and the salinity gets the saliva flowing. Classic Chablis through and through. This will be an exceptional Vaudésir. Drink 2025-2050.' – Neal Martin, Vinous, 93-95/100 (Oct 2021)