Burgundy is home to some of the world's greatest wines and, while their prices continue to soar, we're delighted to bring back a good value favourite – Chavy-Chouet's Bourgogne Rouge La Taupe! A classy, crunchy Pinot Noir for under R500, Allen Meadows calls the 2019 'top value', while Neal Martin says it's the 'perfect bistro Pinot'.
Whilst this Pinot carries the humble Bourgogne Rouge name, it is Pommard in body, delivering supple fruit and polished tannins in 2019. It comes from the La Taupe plot (70+-year-old vines), which lies next to Château de Pommard. 'It offers better than average depth and persistence for a wine at this level,' writes Allen Meadows of the 2019.
'Romaric Chavy… is a young but experienced vigneron producing pure, tensile wines that are typically distinguished by their racy acids and aromatic precision,' says the Wine Advocate. Chavy-Chouet specialises in white wines with a firm grip on Meursault and Puligny-Montrachet, so their rarer reds are a real treat. Try La Taupe with a mushroom risotto or coq au vin.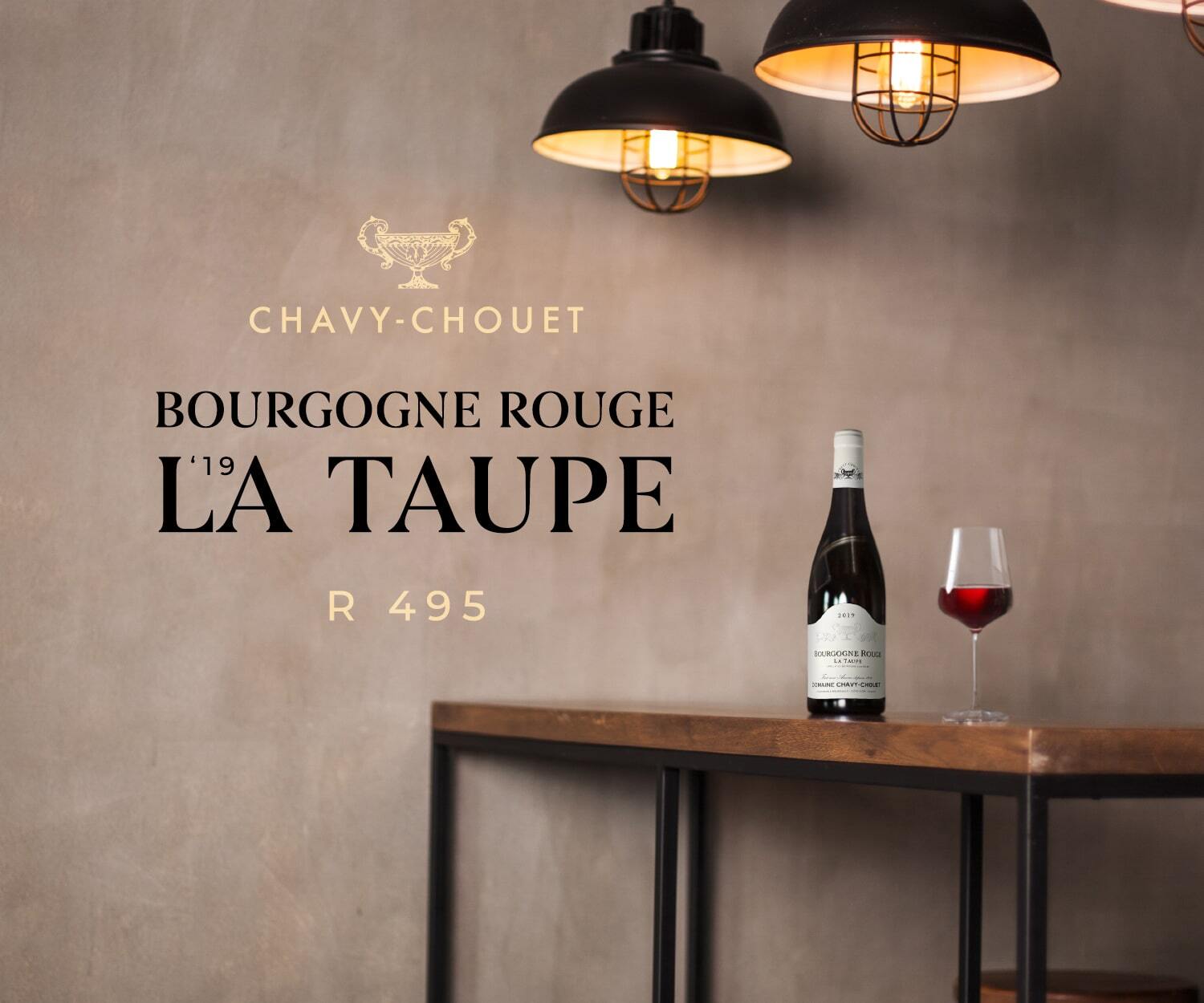 'Chavy-Chouet has built a loyal following and I can understand why.' – Neal Martin, Vinous
An 8th-generation vigneron, Romaric went to wine school at the age of 12, taking over the estate at a mere 22 years old, and his star continues to rise. He is also a big fan of SA and has come over to take part in harvests.
Grand Cru Burgundies fetch astronomical prices and, often, very high scores. Critics generally taste a domaine's entire offering in one go – from Grand Cru to village to régionale wines. It is only natural that with possible 98-point scores for their top wines, the regional wines will be scored lower in relation – between 86 and 90. These scores are very good for this specific pool and this is where the tasting notes tell you more than 'just the score'.
Tasting notes:
Chavy-Chouet, Bourgogne Rouge La Taupe 2019
'The 2019 Bourgogne Rouge La Taupe offers crunchy red berry fruit on the nose, which is almost Loire-like in style, displaying a touch of bell pepper. The palate is medium-bodied with crunchy red fruit, and nicely balanced, leading to a taut, linear finish. Lots of freshness here. A perfect bistro Pinot. 2020 – 2024.' – Neal Martin, Vinous, 87/100
'From 70+-year-old vines. A pure and fresh nose is comprised mostly by both red and dark pinot fruit along with hints of earth and humus. There is fine density to the delicious middle weight flavors that conclude in a softly rustic finish that offers better than average depth and persistence for a wine at this level. Worth considering, top value. Drink 2024+.' – Allen Meadows, Burghound, 87/100