'2019 is probably the most consistently exciting vintage for Beaujolais since 1976.' – James Suckling
The 2019 vintage in Beaujolais was a return to the classical, with William Kelly from Wine Advocate calling it a 'delicate, ethereal vintage'. Whilst yields were down, the quality, popularity and age-worthiness of the Beaujolais crus are still 'on the up'.
Cru Beaujolais is the darling of wine geeks, critics and sommeliers alike. We are once again delighted to bring you wines from artisan producers from 5 of the 10 crus, namely Fleurie, Chiroubles, Côte de Brouilly, Brouilly, and Moulin-à-Vent as well as Beaujolais villages.
In 2019, Fleurie and Moulin-à-Vent were 'amongst the most successful crus' for James Suckling. Stylistically they are on opposite sides of the spectrum. Fleurie is the Queen of Beaujolais (floral, lighter and feminine) whereas Moulin-à-Vent is considered the King (bigger, darker, more intense). The 2019 Marrans Fleurie Les Marrans is 'superb' according to Wine Advocate, while Neal Martin writes, 'one of the strongest appellations in Beaujolais, Moulin-à-Vent bestowed a cluster of excellent wines, such as the sensual 2019 Les Vignes du Tremblay from Paul Janin.'
At the highest altitude lies Chiroubles. It is the coolest cru, and one for lovers of lighter-styled Beaujolais. Along with Fleurie and Côte de Brouilly, Chiroubles was praised by Decanter during their panel tasting of the 2019s. The 2019 Grosse Pierre Chiroubles La Grosse Pierre is red fruited, fine-boned and vibrant, and exemplifies the appellation. Wines from Côte de Brouilly are known for their elegance, minerality and silkiness. Château de la Chaize's 2019 Côte de Brouilly Lieu-Dit Brûlhier shows the exceptional quality of the region and the continued upward trajectory of this producer. 'Consumers and importers should start paying attention!' advises William Kelley.
Brouilly is the southernmost cru and shows more structure and power. Château Thivin is one of our all-time favourites. Their 2019 Thivin Brouilly Reverdon is a great introduction to this historic estate, which 'continues to rank among the reference points for classical, age-worthy cru Beaujolais' according to Wine Advocate.
The 2019 Domaine des Nugues Beaujolais Village is a great starting point to discover the kingdom of Gamay. It's made from the hilly terroirs in the north and is deliciously accessible, aromatic and full of energy.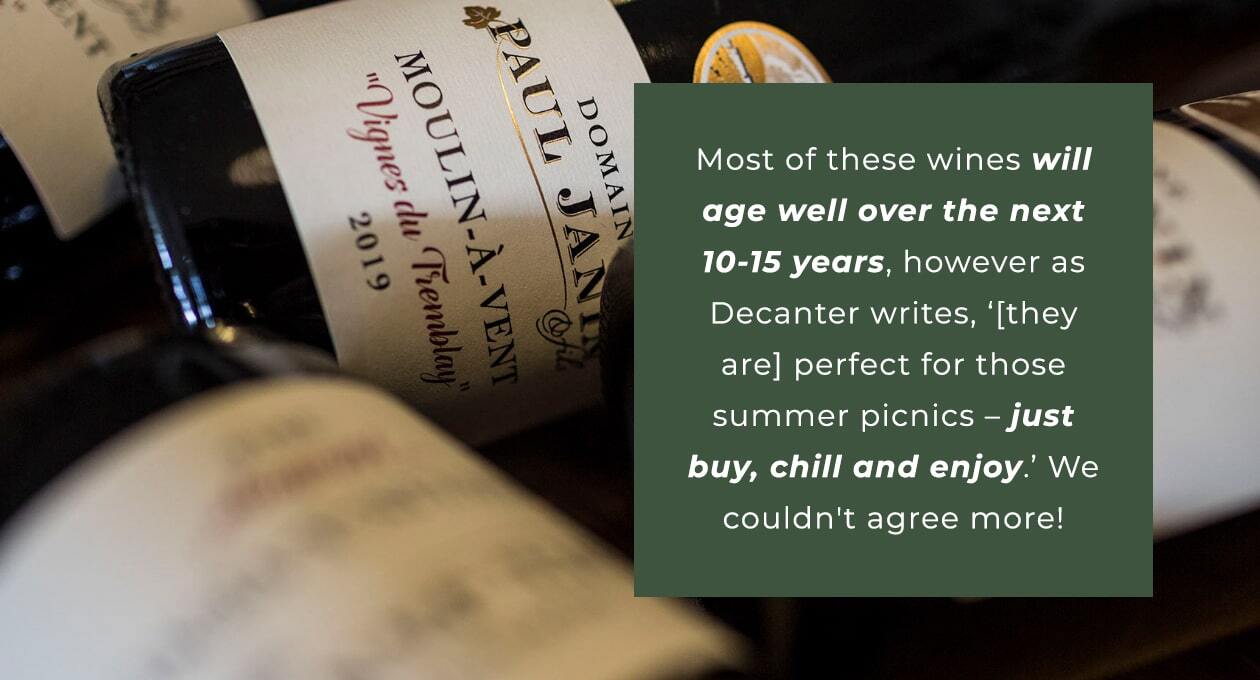 Tasting notes:
Marrans, Fleurie Les Marrans 2019
'From a five-hectare parcel around the domaine, the 2019 Fleurie Les Marrans is superb, mingling notes of raspberries, cherries and plums with hints of rose petals and orange rind in an inviting bouquet. Medium to full-bodied, layered and fleshy, with fine depth at the core, succulent acids and a sensual, charming profile, it will offer a broad drinking window. Drink 2021-2029.' – William Kelley, Wine Advocate, 93/100
Paul Janin et Fils, Moulin-à-Vent Vignes du Tremblay 2019
'The 2019 Moulin-à-Vent Les Vignes du Trembley comes from 40- to 90-year-old vines and is aged in vat for 16 months. Dark berry fruit mixed with cedar and tobacco adorn the nose. The palate is balanced with quite saturated tannins, fine acidity, a smooth texture and attractive red cherry and orange zest flavors, plus a touch of allspice on the finish. Give this a year or two in bottle, because I am sure that will enhance the aromatics. Drink 2023-2032.' – Neal Martin, Vinous, 90/100
Grosse Pierre, Chiroubles La Grosse Pierre 2019
'A cuvée amounting to some 20,000 bottles produced from four hectares of the domaine's easterly exposed holdings, the 2019 Chiroubles La Grosse Pierre bursts with aromas of red berries, rose petals and spices. Medium-bodied, fine boned and lively, with powdery tannins and a vibrant core of fruit, it concludes with a saline finish. Drink 2021-2027.' – William Kelley, Wine Advocate, 92/100
Chaize, Côte de Brouilly Lieu-Dit Brûlhier 2019
'Unwinding in the glass with notes of plums, raspberries and spices, the 2019 Côte de Brouilly Brûlhier is medium to full-bodied, layered and concentrated, with tangy acids, fine tannins and a long, delicately perfumed finish. Derived from a southeast facing site characterized by blue rock, this is the most youthfully reserved wine in the range but also the most promising for the long haul. Drink 2021-2033.' – William Kelley, Wine Advocate, 92/100
Thivin, Brouilly Reverdon 2019
'The 2019 Brouilly Reverdon is performing well, mingling aromas of cherries and berries with hints of spices and loamy soil in an appealing bouquet. Medium to full-bodied, fleshy and succulent, with lively acids and fine tannins, it's classically proportioned and full of charm. Drink 2021-2029.' – William Kelley, Wine Advocate, 93/100
Nugues, Beaujolais Villages 2019
'Deep ruby colour, aromas of red fruits and fine spices with a beautiful length.' – Domaine des Nugues